Down in a green and shady bed,
A modest violet grew,
Its stalk was bent, it hung its head,
As if to hide from view.

And yet it was a lovely flower,
Its colours bright and fair;
It might have graced a rosy bower,
Instead of hiding there,

Yet there it was content to bloom,
In modest tints arrayed;
And there diffused its sweet perfume,
Within the silent shade.

Then let me to the valley go,
This pretty flower to see;
That I may also learn to grow
In sweet humility.
This poem is in the public domain.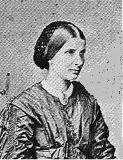 Jane Taylor (1783-1824) was a British poet primarily known for her children's verse. She is the author of ?Twinkle, Twinkle, Little Star," arguably the world?s best know nursery rhyme. Born into a literary family, she wrote a broad body of work, though much of it remained unpublished while she was alive. Jane died of breast cancer at the age of forty.
barbsteff:
My mother loved violets too, both Arfrican and in-the-woods violets, as do I. While I don't particularly care for rhyme and meter, especially when it's obvious, this is a lovely remembrance poem.
Posted 10/24/2016 02:33 PM
Newf:
Just beautiful!
Posted 10/24/2016 12:29 PM
Michael:
Love this poem that brings to mind a simplicity of life often lost in the rush of of time. Thank you for this post, Jayne.
Posted 10/24/2016 09:59 AM
Jancan:
I always LOVE these older poems--love rhyme and meter! This is a lovely piece. Janice
Posted 10/24/2016 08:34 AM
blueskies:
A charming ode. Thanks to both Jane & Jayne. Smiles.
Posted 10/24/2016 08:18 AM