All that year
I had longed for fall,
cooler days, longer nights,
the upstate's surge into color
and leaf drop until all the deciduous
trees were bare, migratory flocks
bound for some other where
swirling occasionally in their journey,
calling out in tongues I would
never know until walking one day
in the late afternoon, I heard
a soft scrub and rush that could
have been a cloth dusting
a barn wood table, and some hint
of a knitter cabling a sleeve or ribbing
a waist, and there I was, outside,
in the warm slant of low sun, almost
where I wanted to be, by the bare
and beautiful sweet gum at the end
of my street where a whole flock
of starlings, voiceless for once, were
knitting and purling themselves
to each branch, the softest brushing
of feather on wood the only thing
that I could hear, the gleam
of their feathers all
I could see.


© by Phebe Davidson.
Used here with the author's permission.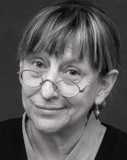 Phebe Davidson is a recovering academic, the author of twenty-some published collections of poems, a contributing editor at Tar River Poetry and a staff writer for The Asheville Poetry Review. Her latest book is What Holds Him to this World (Ninety-Six Press, 2014), which  was awarded the 2013 South Carolina Poetry Archives Book Prize. A native of New Jersey, she now lives in Greenville, SC.
barbsteff:
Lovely! nitting and purling themselves to the branches … What an idea!
Posted 10/25/2016 09:41 PM
rosiholl:
I love this poem and was so pleased to hear Phebe read it last weekend.
Posted 10/25/2016 06:38 PM
transitions:
Jo said it best and I agree, a lovely poem...
Posted 10/25/2016 03:15 PM
paradea:
Beautiful.
Posted 10/25/2016 02:21 PM
Jo:
This painterly poem leaves a beautiful visual of all those starlings, the knitting and pearling, the softest brushing of feathers on wood...My admiration Phebe.
Posted 10/25/2016 11:39 AM
Gilbert Allen:
I admire this poem's thoughtful observation and quiet eloquence.
Posted 10/25/2016 09:34 AM
hujsaked@aol.com:
Lyric.Prebe. Nice to recall how starlings suddenly leaf a tree, then fly away.
Posted 10/25/2016 09:02 AM
rhonasheridan:
I loved the pretty picture of all that knitting,
Posted 10/25/2016 08:40 AM
Larry Schug:
I usually write about starlings in less complimentary terms, but this poem opened my eyes to so many things--being less judgmental and open-minded among them. Great work metaphorically and poetically. Thank you.
Posted 10/25/2016 07:49 AM
plgoodman:
I love the extended metaphor that culminates in that wonderful knitting and purling line. Great fun. Thanks.
Posted 10/25/2016 06:57 AM
r1manchester:
good poem from a snarky "old cat lady"
Posted 10/25/2016 05:42 AM
Sarah Russell:
"Knitting and purling themselves to each branch...". So fine!
Posted 10/25/2016 05:25 AM