My blue heron
is actually gray.
And actually
not mine.
She visits,
then vanishes.
On land she carries her feet
floppy as waffles on jointed sticks.
In flight she flaps slowly, folded neck, gliding
just above water, then stands
still as sculpture
toes in mud
until with a sudden cock of head
(can she hear them?)
that swift beak plucks a fish,
lifts, grips like pincers,
points to the sky.
A slight shake of head
to reposition above gullet,
and she swallows
with a smacking of mouth,
a gleam of eye.
She is a beauty.
Sorry, fish.
†
© by Joe Cottonwood.
Used here with the authorís permission.
†
†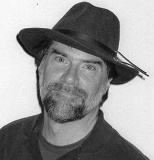 Joe Cottonwood has worked in the building trades for most of his life: carpenter, plumber, electrician. He's also worked as a writer throughout his life, publishing, as he puts it, "a bunch of books, but never hitting it big." Originally from Maryland, with a definite bias toward things Appalachian, Joe eventually moved west to the "California boondocks," where he built a house under redwoods on a mountainside, raised a family, and remains there today, still living with the same woman for half a century and playing with the grandkids. Learn more about him at www.joecottonwood.com.
ElizabethP:
Wonderful. I love blue herons. They are a delight to watch. Great poem/capture.
Posted 11/02/2016 04:03 PM
Newf:
Came back to read this poem. Agree with all the comments. Yeah!
Posted 11/02/2016 02:37 PM
blueskies:
More! More! More, Joe! This was so enjoyable---seeing her universe thru your eyes. Thanks!
Posted 11/02/2016 01:19 PM
KevinArnold:
I like the gleam in the eye.
Posted 11/02/2016 01:09 PM
wendy morton:
You watch everything!!!
Posted 11/02/2016 12:10 PM
Sherry:
Compelling poem and great imagery. I especially like the humor of the last line.
Posted 11/02/2016 10:03 AM
Jancan:
What a beautifully descriptive poem! I love it. Favorite parts--those similes. Janice
Posted 11/02/2016 08:25 AM
Michael:
Dear Joe, Welcome to YDP. Wonderful debut poem--full of great sounds and visuals! This is a delight!
Posted 11/02/2016 08:11 AM
Larry Schug:
No editorializing in this poem. I like that! You paint with words>
Posted 11/02/2016 08:06 AM
cork:
Your poem forced me out of my chair and into the kitchen to view our Audubon heron print. Thanks.
Posted 11/02/2016 07:43 AM
Newf:
Perfect description of a great blue heron. He captured it exactly. I will see if I can find Joe Cottonwood's books. Many thanks Jayne for this one,
Posted 11/02/2016 05:04 AM
Katrina:
I like the slap and gulp of this poem. Well caught!
Posted 11/02/2016 04:01 AM
rhonasheridan:
Over here in Devon I get my YDP at seven in the morning - with me early morning tea. I loved your poem Joe. It was a delightful way to start my day. I love herons.
Posted 11/02/2016 02:28 AM