The trumpets and orientals are done for,
their posh parts stuffed into kosher
brown bags like commoners.

Hosta blooms swing along stalks,
cold little blue children, clinging to life. 
The bell flowers flutter, sound the alarm:

"Beware the clean up crew cometh."

I come bearing shears. 
In my gloves and flannel shirt,
I come dragging body bags.

The craggy-faced waste man comes
in the big truck that scares the cats,
collects the dead like trash. 

I imagine the first time
there was all this madness and mayhem.
Man must have thought it 

the end of the world.
(I picture him keening at the sky, 
shaking his fists, blaming sinful neighbors.)

Imagine the ecstasy then,
the unabashed rapture,
when after the long winter
spring sprang.
© by Laurel Devitt.
Used here with the author's permission.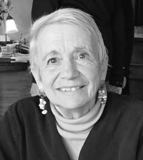 Laurel Devitt lives and writes in La Crosse, Wisconsin—?God's Country," she calls it, ?where the bluffs are grand, the three rivers meet, and everything is inspiration."
fishandchips:
''
Posted 11/03/2016 08:50 PM
barbsteff:
Always have to blame someone else!
Posted 11/03/2016 03:53 PM
blueskies:
Delightful poem; loved the delicious 'spring sprang' closing. Thanks, Laurel.
Posted 11/03/2016 01:11 PM
transitions:
Great goodby...so true, all wrapped up in a lovely poem; makes you think in a different way; thanks ~
Posted 11/03/2016 11:39 AM
jeeger:
Love the picture you've painted with your words. Nailed it!
Posted 11/03/2016 10:32 AM
ElizabethP:
Fun poem. Thanks for sharing!
Posted 11/03/2016 10:10 AM
Laurenepersons:
This a tough time of year--storing lawn furniture and cutting plants to the nub. I find myself telling them, "It's for your own good. Just wait until spring.". Great poem.
Posted 11/03/2016 08:02 AM
Newf:
Wonderful poem. Yes spring will come again and again. Thanks for the reminder on a dreary morning.
Posted 11/03/2016 06:50 AM
Phyllis Beckman:
"Imagine the ecstasy then, the unabashed rapture, when after the long winter spring sprang"...describes Cub and their fans today! Nice job, Laurel, my friend.
Posted 11/03/2016 03:47 AM