Friend, though thy soul should burn thee, yet be still.
Thoughts were not meant for strife, nor tongues for swords.
He that sees clear is gentlest of his words,
And that's not truth that hath the heart to kill.
The whole world's thought shall not one truth fulfil.
Dull in our age, and passionate in youth,
No mind of man hath found the perfect truth,
Nor shalt thou find it; therefore, friend, be still.

Watch and be still, nor hearken to the fool,
The babbler of consistency and rule:
Wisest is he, who, never quite secure,
Changes his thoughts for better day by day:
To-morrow some new light will shine, be sure,
And thou shalt see thy thought another way.
This poem is in the public domain.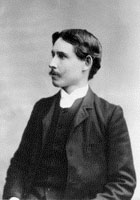 Archibald Lampman (1861 - 1899) was a Canadian poet who is often compared to America's Henry David Thoreau. Born and raised in Ontario and drawn to nature from an early age, Archibald was an excellent student but a bout with rheumatic fever left him in less than robust health. He taught briefly before taking a position as a post office clerk, a job he held till his death at the age of 37 from a heart condition caused from his childhood illness. Archibald began writing poetry during his college days, and saw his work published in Canadian, American, and British publications. He authored three books and is respected today as one of Canada's finest poets.
Lori Levy:
Very wise.
Posted 11/11/2016 01:29 PM
transitions:
And not "hearken to the fool'. Thoughtful poem at such a sad time, really liked it.
Posted 11/11/2016 11:09 AM
rhonasheridan:
Thank you for this wonderful poem Jayne.
Posted 11/11/2016 10:08 AM
wordlover:
Terrific choice, especially for our nation's various present frames of minds.
Posted 11/11/2016 09:15 AM
KevinArnold:
I'd not heard of this Canadian Thoreau. Subtle.
Posted 11/11/2016 08:50 AM
loisflmom:
We can only hope that those in Washington DC read and give serious thought to this beautiful poem.
Posted 11/11/2016 08:28 AM
plgoodman:
Nice move Jayne. "The Truth" for sure!
Posted 11/11/2016 07:40 AM
Randy Cadenhead:
I taught my children that the more you believe something, the less likely it is to be true and to always question.
Posted 11/11/2016 07:19 AM
paradea:
A fine poem, and perfect for today.
Posted 11/11/2016 07:10 AM
Newf:
Thank you Jayne for your words and for choosing this poem. I live in Ontario, but I've never read this. It's thought provoking and a good choice for Remembrance Day. Too many young people have died and are still dying to protect our freedom.
Posted 11/11/2016 04:53 AM
Phyllis Beckman:
"Wisest is he, who never quite secure, changes his thoughts for better day by day:" Thank you, Archibald Lampman, for giving us permission to grow. Jayne, your inspiring tribute to veterans is appreciated.
Posted 11/11/2016 04:21 AM