What does it mean when the list for
your checkup starts "flu shot" and ends
"body donation?" When he comes in and
you ask him this, your doctor jokes, "Let's
hope the one doesn't lead to the other."

You hadn't thought of that. You'd brooded:
start with present prudence, ending in future
preparedness. How far future? If you knew
when the donation was to take place you might
not bother with the flu shot. Or vitamins or
the gym three times a week for resistance
training; there's more to resist than weights,
God knows. You'd concern yourself with that:

what God knows, or if God knows, or if God
is known, forgoing your current obsession of
recording your weight each day, or how much
weight you resist on the gym's infernal machines.
The infernal may be a moot issue theologically
these days, but surely knowing the date of
its personal beginning, any possible afterlife
would preoccupy you. And if there is none, how
can it begin? Is it rather the date of its non-
appearance? The date when the question itself
becomes moot, as you do too, moot and mute.

Still, listing "body donation" doesn't mean
you know when disposing of your dead body
will be a live issue. For you, it won't be;
somebody else will be stuck with the corpse,
the complication, the need to be complicit
in the removal of all traces of your existence,
muting the ever more remote fact of your
being and non-being as if it were a cough
or sneeze someone with the flu tries and
succeeds in stifling. Meanwhile, this waiting
room is chilly, not stifling, a temperature
more appropriate for body donation than
flu shot. Shivering, all you can do is rejoice
you're here for the latter, that trivial matter.
© by Sandra Kohler.
Used with the author's permission.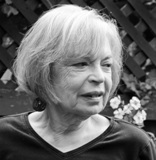 Sandra Kohler describes herself as "a septuagenarian, wife, mother, mother-in-law, grandmother, lover of Shakespeare and Elena Ferrante, of mysteries and crossword puzzles, of Philadelphia Flyer's hockey and the music of Mahler, Sibelius and Dvorak, gardener, sometime teacher and, above all, I hope, a poet." The author of three collections, one of which won the 2002 Associated Writing Programs Award Series in Poetry, Sandra lives in Dorchester, Massachusetts.
Mark ostrem:
I will post this poem in our waiting room to encourage substantive discussions of life and death; improving quality of the former and delaying the latter.
Posted 11/13/2016 08:03 PM
pwax:
"there's more to resist than weights" --especially when dealing with the medical profession! Excellent poem!
Posted 11/12/2016 05:07 PM
Lori Levy:
Love the humor in this poem!
Posted 11/12/2016 02:22 PM
Michael:
Dear Sandra, I appreciate your deft handling of both the trivial and the "dead" serious! Thank you. Michael Escoubas
Posted 11/12/2016 01:19 PM
barbsteff:
Truth about life, artfully and amusingly presented.
Posted 11/12/2016 11:30 AM
blueskies:
This poem 'grabbed me' at the opening question.Pure delightful reflections. Thanks Sandra!
Posted 11/12/2016 08:14 AM
Larry Schug:
So difficult to be present in the present, isn't it? Embrace that jab of the needle, embrace the resistance training. We have no choice but to embrace the end when it embraces us. Good musings presented in a poetic way.
Posted 11/12/2016 07:45 AM
rhonasheridan:
Wonderful Sandra! Having just been ticked off for not having a flu-jab feeling it was a mite unnecessary at 92 - . I've had a good laugh!
Posted 11/12/2016 04:11 AM
Katrina:
This is brilliant, Sandra. I am following a course in 'medicines adherence', but while doctors know so much about medicine and so little about physical health, I am tempted to concentrate on the latter.
Posted 11/12/2016 03:50 AM
transitions:
Loved it ~
Posted 11/12/2016 02:30 AM