Snowing outside,
and the boy in short pants
swings a broom.

He's at bat
in his room
that's a park

for the other boy
smaller and kneeling
waiting his turn

for the Sun,
maybe Spring,
whichever comes first.
The poem first appeared in The National Catholic Reporter.
Used here with the author's permission.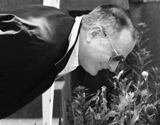 Donal Mahoney lives in St. Louis, Missouri. A native of Chicago, he spent the early '70s actively submitting poems to print journals and enjoyed some success. He then took a 35-year hiatus from poetry to work as an editor of prose at such lofty establishments as the Chicago Sun-Times, Loyola University Press, and Washington University in St. Louis. Upon retirement, Donal took to his recliner, and was perfectly happy reading and listening to Gregorian chant all day. After three years, however, his wife bought Donal a computer and showed him where the boxes of still-unpublished poems had been stored in the basement for many years. Thus Donal began actively submitting again in June 2008. Some of his work since then can be found at http://eyeonlifemag.com/the-poetry-locksmith/donal-mahoney-poet.html#sthash.OSYzpgmQ.dpbs=. Some of his work from the '70s can be found at http://booksonblog12.blogspot.com/.
KevinArnold:
Love the tripets, the brevity, the confounding inside-outness in his room / that's a park.
Posted 01/13/2015 10:21 AM
ed werstein:
A beauty, Donal.
Posted 01/13/2015 08:18 AM
Gary Busha:
Yes. I like the boys unnamed.
Posted 01/13/2015 05:49 AM