Every branch big with it,
Bent every twig with it;
Every fork like a white web-foot;
Every street and pavement mute:
Some flakes have lost their way, and grope back upward when
Meeting those meandering down they turn and descend again.
The palings are glued together like a wall,
And there is no waft of wind with the fleecy fall.

A sparrow enters the tree,
Whereon immediately
A snow-lump thrice his own slight size
Descends on him and showers his head and eye
And overturns him,
And near inurns him,
And lights on a nether twig, when its brush
Starts off a volley of other lodging lumps with a rush.

The steps are a blanched slope,
Up which, with feeble hope,
A black cat comes, wide-eyed and thin;
And we take him in.
This poem is in the public domain.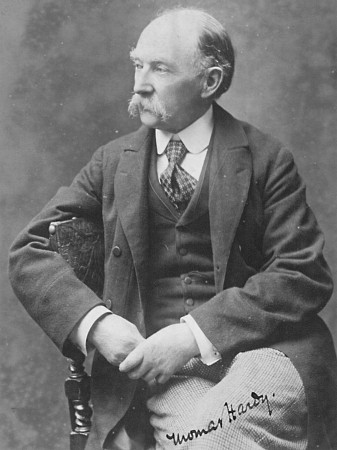 Thomas Hardy (1840 - 1928) was an English writer who always considered himself a poet, although during his lifetime, his notoriety came from his novels. Even today, his novels (Tess of the d'Urbervilles, Far from the Madding Crowd, and Jude the Obscure, for example) are far better known than his poems. Thomas trained and worked as an architect before turning to writing; his attention to detail and his love of the natural world are obvious in his works? lush descriptions of England?s country settings. Thomas left behind a huge and fascinating body of work, including poetry collections, novels, short stories, and plays.
big dick:
yall shit id would fuck you in the ass in any game tbh i sticked my dick in your mom last night
Posted 02/03/2023 11:02 AM
XenBlem:
I'm the best at fortnite. Try me, bot. 🥶 🥶 🥶 🥶 🥶 🥶 🥶 🥶
Posted 01/20/2022 11:09 AM
rbesfd:
shitter butt
Posted 01/13/2022 02:59 PM
rbesfd:
gonginga
Posted 01/13/2022 02:59 PM
shiter:
shit
Posted 05/26/2021 08:38 AM
shiter:
shit
Posted 05/26/2021 08:37 AM
gonginga:
LOLOLOLOLOLOL NANANANANAIII
Posted 12/22/2020 01:27 PM
gonginga:
nani
Posted 12/22/2020 01:27 PM
transitions:
I really enjoyed this, what an 'eye' he had, what a way he had ~ with words, just lovely. Judy
Posted 01/12/2015 09:29 PM
Mary Lou Taylor:
The meter in this poem is rollicking! In most of Hardy's poems. One of my favorite poets.
Posted 01/12/2015 02:38 PM
paradea:
Great!!
Posted 01/12/2015 08:43 AM
tannerlynne:
What a good eye he has.
Posted 01/12/2015 08:25 AM
Marilyn L Taylor:
I'm reminded again why I love Hardy. Thanks, Jayne, for doing that.
Posted 01/12/2015 07:40 AM
Katrina:
His novels have structure; this poem is delightfully devoid of it. An architect must have a sense of proportion, a poet the sense of the inadequacy of our building blocks.
Posted 01/12/2015 03:20 AM