The dark-eyed juncos have returned,
telling us winter's on its way.
That name makes me think of temptresses
from times when women ringed their eyes
as if to underscore their passion.
I think of Mata Hari or Theda Bara,
But no,
the dark-eyed junco's none of that.
Its eyes are simply dark rather than light,
and dressed in gray smock and ecru bloomers
it looks more like a schoolgirl
than a femme fatale.
© by Richard Greene.
Used with the author's permission.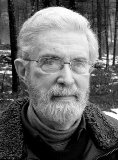 Richard Greene began writing poetry in the 8th grade, inspired by the opening lines of Longfellow's "Evangeline"—"This is the forest primeval. The murmuring pines and the hemlocks / Bearded in moss and in garments green, indistinct in the twilight"—which he was required to read in class. In college, after a classmate deemed Richard's rhyming poem "trite," he stopped writing until, a couple of years later, a class with Henry Rago, subsequently editor of Poetry magazine, inspired him to resume his efforts. But poetry fell by the wayside for almost forty years as a busy career in international development consumed his life. As retirement approached, however, Richard's dedication to poetry returned; he has now self-published a book (Explorations -Antrim House Books), and shares a "poem of the week" (get on the mailing list by requesting it at greeneplace@gmail.com). Learn more about Richard at www.greenepage.net.
Bourgom:
Love that little bird and on my walk today here in central PA they were much in evidence. Thanks for your lovely portrait of these brave migrants
Posted 12/03/2016 08:20 PM
Lori Levy:
Like that image--"more like a schoolgirl/than a femme fatale."
Posted 12/02/2016 09:56 AM
Jean :D:
The junco's are like billboards announcing snow is imminent. They get it right every time, even one rare time, years ago, in May! Warm-up, they're gone.
Posted 12/02/2016 06:17 AM
blueskies:
Did a google search on the junco. None in where I grew up, live, etc. Lovely critters. Better see how you beautifully positioned your poem now.Thanks,Richard.
Posted 12/02/2016 05:58 AM