This flock tells time.
They swoop into my yard
on December 3rd and light
on the highest branches.
I know what they are up to.
Look how they stand still,
trying to pass for last leaves.
For a moment, I believe
they will stay until spring.
From branches of oaks,
they scope my birdhouses,
then glide down,
try each door.† They do this
at the end of fall every year.
Every year, I am ready,
seed in the feeders. Stay, I whisper.
I need them to stay.
They donít care what I need.
They wing southward without a glance
like the loved one I tried to keep,
who at winterís approach flew forth
searching for the great haven.
†
From Living Above the Frost Line: New and Selected Poems, Carolina Wren Press (2010).
This poem first appeared in The Poets Guide to the Birds (Anhinga Press).
Used here with the authorís permission.
†
†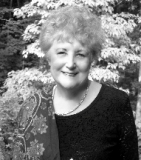 Nancy Simpson (1938 - 2018) had deep roots in Georgia, though she was born and raised in Miami, Florida. In the '60s, she moved to Western North Carolina, where the mountains inspired her to begin writing poetry. Author of three poetry collections and writer-in-residence at the John Campbell Folk School for fifteen years, Nancy founded the Netwest branch of the North Carolina Writers Network and spent many years teaching writing in public schools and colleges.

Jancan:
Descriptive and lovely! Janice Canerdy
Posted 12/03/2016 09:46 PM
transitions:
Loved it.
Posted 12/03/2016 06:54 PM
ElizabethP:
Oh, this is wonderful. Thank you!
Posted 12/03/2016 05:03 PM
njc:
Simply beautiful. Thank you.
Posted 12/03/2016 12:32 PM
carel:
No bluebirds came my way this summer in Wisconsin. (They have in the past.) So, thanks for this bluebird visitation of words!
Posted 12/03/2016 10:06 AM
cork:
In Wyoming we have mountain bluebirds who knock on birdhouse doors.
Posted 12/03/2016 09:20 AM
plgoodman:
Powerful metaphor Nancy. You reached me! Thank you.
Posted 12/03/2016 07:15 AM
erinsnana:
I love this
Posted 12/03/2016 04:28 AM
Katrina:
This is beautiful.
Posted 12/03/2016 03:15 AM
Belinda Veldman:
Wow. Beautiful.
Posted 12/03/2016 02:10 AM