There's many a house of grandeur,
With turret, tower and dome,
That knows not peace or comfort,
And does not prove a home.
I do not ask for splendor
To crown my daily lot,
But this I ask: a kitchen
Where the kettle's always hot.

If things are not all ship-shape,
I do not fume or fret,
A little clean disorder
Does not my nerves upset.
But one thing is essential,
Or seems so to my thought,
And that's a tidy kitchen
Where the kettle's always hot.

In my Aunt Hattie's household,
Though skies outside are drear,
Though times are dark and troubled,
You'll always find good cheer.
And in her quaint old kitchen—
The very homiest spot—
The kettle's always singing,
The water's always hot.

And if you have a headache,
Whate'er the hour may be,
There is no tedious waiting
To get your cup of tea.
I don't know how she does it—
Some magic she has caught—
For the kitchen's cool in summer,
Yet the kettle's always hot.

Oh, there's naught else so dreary
In household kingdom found
As a cold and sullen kettle
That does not make a sound.
And I think that love is lacking
In the hearts in such a spot,
Or the kettle would be singing
And the water would be hot.
This poem is in the public domain.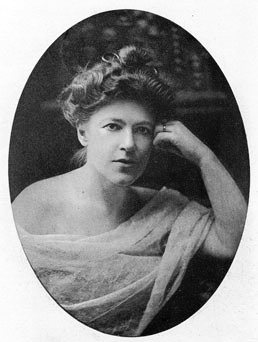 Ella Wheeler Wilcox (1850-1919) was a popular and prolific poet. Published and lauded before she even graduated from high school, Ella preferred to write happy, upbeat poetry and was much beloved for it. More than a dozen of her poems are included in the book, Best Loved Poems of the American People (Doubleday, 2008). The familiar saying, "Laugh and the world laughs with you, weep, and you weep alone. . ." comes from her best-known poem, "Solitude." A morally strong and spiritual person, Ella believed that her purpose on earth was to practice kindness and service. Read more about her here.
rhonasheridan:
Quite beautiful. Loved it.
Posted 12/12/2016 04:24 AM
jonidee61:
Just lovely
Posted 12/11/2016 05:54 PM
blueskies:
Ella creates a shining fun visual within this poem > ...the kettle would be singing. And the water would be hot. At heaven's gate! Thanks,Jayne.
Posted 12/11/2016 10:58 AM
KevinArnold:
Ella Wheeler Wilcox is amazing . . .
Posted 12/11/2016 08:59 AM
Jean :D:
Double ditto what Sherry said about this wonderful poem.
Posted 12/11/2016 08:39 AM
Sherry:
I love this poem. Immensely charming and well-written, with such a core of truth.
Posted 12/11/2016 07:49 AM
Katrina:
I like this.
Posted 12/11/2016 06:13 AM