Magician he, who, autumn nights,
Down from the starry heavens whirls;
A harlequin in spangled tights,
Whose wand's touch carpets earth with pearls.

Through him each pane presents a scene,
A Lilliputian landscape, where
The world is white instead of green,
And trees and houses hang in air.

Where Elfins gambol and delight,
And haunt the jewelled bells of flowers;
Where upside-down we see the night
With many moons and starry showers.

And surely in his wand or hand
Is Midas magic, for, behold,
Some morn we wake and find the land,
Both field and forest, turned to gold.
This poem is in the public domain.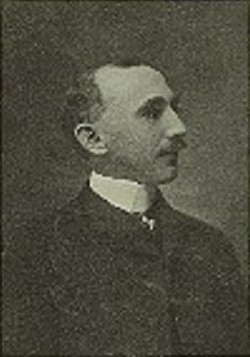 Madison Julius Cawein (1865 - 1914) was a poet from Louisville, Kentucky, who loved to write about nature. Sometimes referred to as "the Keats of Kentucky," Madison published more than thirty books of his own work and translated numerous others written by German poets. While nature was his favorite theme--his wonderfully detailed poems about his native state's flora and fauna have been called a "veritable nature guide to the Kentucky woodlands"--Madison also wrote about a broad range of other subjects, ranging from vampires to fairies. Critically popular, internationally acclaimed, and frequently published in contemporary magazines of his day, Madison was rendered almost destitute by the stock market crash in 1912 and was forced to sell his home and much of his library collection to survive.
blueskies:
Much glee, Katrina...Thanks!
Posted 12/12/2016 10:56 AM
Jancan:
I truly enjoyed this skillfully-written, beautiful poem. More, please! Janice
Posted 12/12/2016 08:16 AM
KevinArnold:
The Keats of Kentucky, indeed.
Posted 12/12/2016 08:03 AM
Katrina:
I don't usually like quatrains, but Madison has incorporated more metaphor in a short verse than Holmes taught in detention.
Posted 12/12/2016 07:40 AM
blueskies:
Madison created a word-wonderland with this melodius poem.Thanks,Jayne
Posted 12/12/2016 06:14 AM