Whene'er I feed the barnyard folk
My gentle soul is vexed;
My sensibilities are torn
And I am sore perplexed.

The rooster so politely stands
While waiting for his food,
But when I feed him, what a change!
He then is rough and rude.

He crowds his gentle wives aside
Or pecks them on the head;
Sometimes I think it would be best
If he were never fed.

And so I often stand for hours
Deciding which is right?
To impolitely have enough,
Or starve and be polite.

This poem is in the public domain.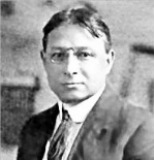 Ellis Parker Butler (1869 –1937) was a writer, editor, and banker. Born and raised in Muscatine, Iowa, he spent most of his life in New York City. Author of more than 30 books and more than 2,000 stories and essays which appeared in hundreds of newspapers and magazines, Ellis published his first story at the age of 13. Several of his works were converted into film, including Pigs is Pigs and The Jack-Knife Man, was turned into a successful movie. Ellis was instrumental in starting the Authors' League of America.
barbsteff:
If there's not enough, then rudely compete to have enough! Entertaining poem.
Posted 01/25/2017 10:44 PM
vscholtz:
A true dilemma. We have 2 dogs and the female was overbearing for years. Now she is old and lame and has to wait her turn while the younger one eats his fill. Then there's politics!
Posted 12/13/2016 08:45 AM
paradea:
Love this!!!
Posted 12/13/2016 07:44 AM
cork:
As a small child, I was attacked by a rooster. He was not polite.
Posted 12/13/2016 07:18 AM
blueskies:
Many smiles! Thanks,Jayne.
Posted 12/13/2016 05:28 AM
rhonasheridan:
My early morning giggle!
Posted 12/13/2016 02:45 AM