The dog and I silently pass by houses
nondescript in the daytime
now open curtains and yellow lamplight
give me glimpses of strangers' lives
figures passing through rooms
the almost ubiquitous blue light of huge TVs
often the screen is big enough
so I can catch a fleeting look at what they're watching
colorful explosions, a lion bounding after a gazelle
the dog pulls me past quick snapshots
children's artwork on the refrigerator door
in a bright yellow kitchen where someone's baking
something with cinnamon that makes my mouth water
enormous family photos crowding a wall
often a silhouette upstairs absorbed in another blue screen
sometimes I'm rewarded with something different
the soaring swell of a Verdi aria
a cat in the window regarding me intently
a quiet cottage with candles lit and no TV on
and once, a house where the faint sound of
Van Morrison's "Tupelo Honey" floated out
and two tall white-haired people
were waltzing through their living room

From Thank Your Lucky Stars (Moon Pie Press, 2011).
Used here with the author's permission.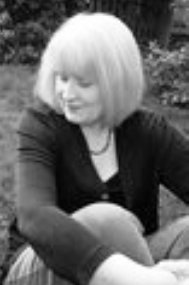 Alice N. Persons was born in Massachusetts, grew up in the Army, and graduated from high school in Virginia. She has a BA and MA from the University of Oregon and a J.D. from the University of Maine School of Law. Alice is the editor and publisher of Moon Pie Press, which has published 93 books of poetry since 2003; a full catalog, sample poems, and other information can be found at www.moonpiepress.com. Alice is the author of five poetry collections, the most recent published in December 2015. She lives in Westbrook, Maine, with two cats and a dog, where she teaches part time and volunteers for animal welfare and at her local library.
transitions:
A great ending surprise, enjoyed this poem.
Posted 12/14/2016 06:06 PM
Lori Levy:
Beautiful. Love the ending!
Posted 12/14/2016 11:27 AM
carel:
Lovely, just lovely!
Posted 12/14/2016 09:22 AM
paradea:
"Oh, the things you will see"!!! I'm right there with you, Alice. Good poem!
Posted 12/14/2016 09:07 AM
michaelanderson:
two tall white-haired dancers
Posted 12/14/2016 08:47 AM
Jancan:
What an appealing, moving poem! I love it! Janice
Posted 12/14/2016 08:05 AM
Larry Schug:
Van's "Tupelo Honey" really brought the poem to life for me. A song within a poem brings a second kind of music to the words, which possess their own kind of music. The final two lines are what poets search for and when you find them you can paint a picture with them. This poem brings all the senses into play. Like it!
Posted 12/14/2016 07:20 AM
David:
Also a little melancholy. And nice use of imagery.
Posted 12/14/2016 06:44 AM
blueskies:
Unique & charming. Thanks, Alice.
Posted 12/14/2016 06:30 AM