Rounding a bend on a Saturday night
my little car cresting a coastal hill
descending deep into the darkened spleen
of a moonlit cove that I've slid past,
forgotten, so many times before

my mind honed homeward
noticing not the night-swallowed sand
dark and itching as a knitting wound,
not the well-worn beach now erased, only
the licking waves lit white in the moonlight

when suddenly – fireworks!
sparkling up from the void
bursting from the blackened beach
a crackling trail of starlight blooms
into popping fronds of light

then whispers into wisps of smoke
– and then another!
anemone of red and gold
shoots and shouts above the beach,
again and again they burst and blow

and never do I see or know
the lighter of that late-night fuse
the sender-up of firelight.
And the sparking of that sparkling night
was so much sweeter to my eyes

because I didn't expect to spy
that break of beauty rising there,
and this is what beauty is, I think,
what clips my mind in dark surprise
the light I don't expect to find:

the purple thistle astride a trail;
slapping the sea, a whale's tail;
tiny fingernails.
Always there are popping fronds of light.
I must crack my eyes to be surprised.

© by Ryan Warren.
Used with the author's permission.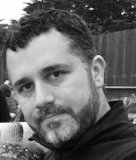 Ryan Warren lives with his family by the sea in Northern California, where they spend their time playing with the dog, taking naps, and looking under rocks. His poetry has appeared or is forthcoming in a number of journals. Learn more about Ryan at www.facebook.com/RyanWarrenPoetry.
David:
Wonderful imagery and use of language.
Posted 12/20/2016 02:38 PM
Lori Levy:
Love the concept of beauty presented here.
Posted 12/19/2016 10:36 PM
joecot:
"the licking waves lit white in the moonlight" Oo-la-la! Nice one, Ryan.
Posted 12/19/2016 11:36 AM
transitions:
Sounds like a great life. Enjoyed the poem.
Posted 12/19/2016 11:34 AM
wordlover:
Tjis poet has mastered the language. Beautiful metaphors and subtle rhymes.
Posted 12/19/2016 09:39 AM
peninsulapoet:
To be astonished by beauty--one of the poet's jobs. Lovely work.
Posted 12/19/2016 09:24 AM
blueskies:
Lovely poem; depth & delight! Thanks,Ryan.
Posted 12/19/2016 07:48 AM
cork:
Very nice work, Ryan.
Posted 12/19/2016 07:44 AM