The mixer in the kitchen purrs;
it twists and tosses as it stirs
the cookie batter Mom will bake
and then let me help decorate.

The silver cutters wait in lines
to shape their own unique designs
when rolling pin has done its job
and flattened out the doughy blob.

She wipes her brow, adjusts her sleeves,
and starts to cut out holly leaves,
then picks the joyful rocking horse
and stars and bells and birds, of course.

The trees and Santas wait their turn,
while angels, next to snow men, yearn
to don their robes and join the crowd?
I'm sure they want to sing out loud.

The powdered sugar frosting spreads
with ease and forms the sticky beds
on which the colored sprinkles rest,
where red-hot buttons look their best.

And I would like to make it clear
that these creations disappear
because in spite of looking neat,
they're really baked for us to eat.
© by C. F. Kelly.
Used here with the author's permission.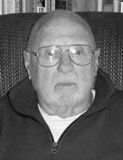 Cornelius Farrell Kelly wrote his first poem at age 12 when he fell in love with the girl across the street and put his work in her mailbox. She showed it to all of the neighbors, and Cornelius became the poet laureate of his block. Influenced early on by the poetry of Edgar Guest, Cornelius is the author of eight chapbooks, is involved with several poetry organizations, and publishes regularly. He is also a competitive swimmer. Cornelius lives in Pinedale, Wyoming.
Jancan:
Love it! Janice
Posted 12/18/2016 11:56 PM
Juan R. Gutiérrez:
Corkey, me encanto este poema. Parece que veo todo el proceso en mi mente. Casi me hace llorar al recordarme a mi querida mamacita que murio muy temprano en su vida. Gracias amigo por haber compartido esta escrita foto. Feliz Navidad!
Posted 12/18/2016 02:42 PM
blueskies:
You brought back-in many hoilday memories of childhood. A pure JOY! Thanks, Cornelius.
Posted 12/18/2016 07:37 AM
paradea:
What a warm and happy poem!! Love this!!
Posted 12/18/2016 06:30 AM
Jean :D:
What a delightful, fanciful poem, so appropriate for this season. I wanted to be in that kitchen!
Posted 12/18/2016 06:22 AM
rhonasheridan:
What fun! I can see it all - very sorry I wasn't around to taste it,
Posted 12/18/2016 05:59 AM