Awash in tissue, ribbon, paper,
the grandchildren squeal
"Look! . . . Look!". . .
rejoicing in Santa's largesse.

Their parents, my children,
need less — a talisman
from one they love
to show friends at book club,
or unsheathe on the tennis court.

I smile. Gifts for me abound
this Christmas and cannot be wrapped —
a kaleidoscope of family to reach
beyond my years and color the world.
© by Sarah Russell.
Used with the author's permission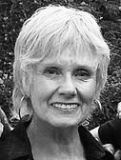 Sarah Russell lives in State College, Pennsylvania with a patient husband and a curly dog named Smudge. She co-edits Pastiche, a local literary magazine, and her poetry has appeared in dozens of journals and anthologies. Sarah humiliates her six grandchildren by knitting them sweaters for their birthdays. Learn more about her at www.sarahrussellpoetry.com.
ElizabethP:
Oh yes. This! :-) Thanks for sharing.
Posted 12/28/2016 08:21 AM
Lori Levy:
I agree!
Posted 12/26/2016 09:54 AM
blueskies:
A shining reveal upon the day-after as seen by a grandparent! Thanks, Sarah.
Posted 12/26/2016 09:13 AM
Jancan:
I love this poem! Janice
Posted 12/26/2016 08:47 AM
Laurenepersons:
Thanks for the post-Christmas gift.
Posted 12/26/2016 08:13 AM
Katrina:
Beautifully opened.
Posted 12/26/2016 07:01 AM
rhonasheridan:
Perfect,
Posted 12/26/2016 04:03 AM