I liked those scrawny trees
that leaned to one side, and you
always had to add a branch
to the open spot in the middle,

and I liked those colored bulbs
exploding with a flash and a pop,
and the ones like lava lamps
that could never settle on a branch,

and there was nothing under the tree
except the little town of Bethlehem,
looking more like Pennsylvania
than Palestine in the snowy hills,

and then, on Christmas morning,
the presents, unwrapped and
mostly practical, but always
that one special thingó
a blue typewriter for me,
bee-bee guns for my brothers,
a Chatty Cathy for my little sister,
and a pedal tractor for the baby.

You were always the best gift,
watching through the French doors
from the kitchen, making sure
everything came out even.

© by Joyce Sutphen.
Used with the authorís permission.
†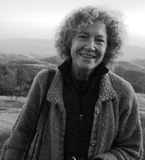 Joyce Sutphen is the author of multiple award-winning books of poetry and was co-editor of To Sing Along the Way, an anthology of Minnesota women poets. A professor of literature and creative writing at Gustavus Adolphus College in St. Peter, Minnesota, she has garnered numerous fellowships and residencies in the course of her poetry career. In 2011, she was named Minnesota's Poet Laureate. The oldest of nine children, Joyce grew up on a farm near St. Joseph and currently lives in Chaska. She loves both prairie and city and says "a perfect afternoon for me would be a long walk around the big marsh behind my house, or a ramble through Holland Park in London." A fan of Shakespeare, Joyce often uses her commute time to memorize poems by favorite poets. Learn more about her at www.joycesutphen.com.

Larry Schug:
Hmm...coming out even=peace on earth. Seems pretty simple. Only a poem can do that job
Posted 12/25/2016 09:42 AM
Lori Levy:
An honest and down-to-earth picture of Christmas. I like it!
Posted 12/25/2016 09:41 AM
Sarah Russell:
Yes! That's how I remember Christmas too. Batteries not required...
Posted 12/25/2016 09:28 AM
Jancan:
This poem paints a beautiful, appealing picture. Love it! Janice
Posted 12/25/2016 08:07 AM
JanetruthMartin:
this is special! Wishing all a blessed Day and year!
Posted 12/25/2016 07:45 AM
vscholtz:
Simple words wrapped in poetry stir memory and emotion. Thanks and Merry Christmas.
Posted 12/25/2016 07:40 AM
blueskies:
A poem to cherish. Thank you Joyce. Happy holidays to all the lovers & writers of poetry. The special music that LIGHTS up our minds & hearts...and sings!
Posted 12/25/2016 06:31 AM