No snow fell the night that Jesus was born;
no gaily wrapped gifts lay awaiting next morn.
That first Christmas Day dawned unheralded, calm,
to no glorious psalm.
Yet that simple tableau, Holy Mother and Child,
commenced grace everlasting for souls sin-defiled.
With love pure as sunrise, with mercy for all,
God reached out, through a baby, and put forth a call.
Millennia later, midst great celebrations,
distracted by presents and gay decorations,
our focus is blurred as we try to keep sight
of the Babe who was born on that holiest night.
Help us, O God, to refix our gaze
on Bethlehem's miracle during these days.
Give us the wisdom to seek and embrace
your bountiful, free, unconditional grace
for, truly, that blessing bestowed in a stall
is the one perfect gift on this earth for us all.
© by Jayne Jaudon Ferrer.
Used with the author's permission.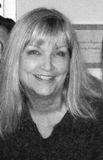 Jayne Jaudon Ferrer is the author of four books of poetry and a nonfiction book about games. She speaks frequently at chuches, schools, and writing-related events and her work has appeared in hundreds of publications. Jayne is the founder and editor of YourDailyPoem.com and enjoys reading, music, old movies, and good conversation. A native Floridian, Jayne has lived in Greenville, South Carolina, for more than 20 years. Learn more about her at www.jaynejaudonferrer.com.
ghctenmile@earthlink.net:
Merry Christmas, Jayne!
Posted 12/25/2016 05:58 PM
Jo:
Just got here today, Jayne. A beautiful retelling of the Christmas story--and the emphasis on keeping it alive today, everyday.
Posted 12/25/2016 03:19 PM
transitions:
Yes...lovely.
Posted 12/24/2016 12:30 PM
Jancan:
Absolutely BEAUTIFUL--profoundly meaningful, moving, and well-written! Janice
Posted 12/24/2016 09:35 AM
cork:
The three kings may have begun the tradition of gift giving at Christmas. Why do I always get a lump of coal?
Posted 12/24/2016 09:26 AM
blueskies:
Placing this shining poem/gift at the Christmas tree within! Blessings & Thanks, Jayne.
Posted 12/24/2016 08:42 AM
akoehn:
Impressive! I especially like the lines "Help us, O God, to refix our gaze On Bethlehem's miracle during these days."
Posted 12/24/2016 07:44 AM
mjorlock:
Have a Merry Christmas, Jayne, and a Happy and safe New Year. Thanks for your continuing efforts to spread cheer through the magic of verse.
Posted 12/24/2016 07:28 AM
Jean :D:
This is an outstanding poem. It's what it's all about. Thank you for focusing our minds on how it should be! Blessings to you & your family. What a joy you add to our days.
Posted 12/24/2016 04:39 AM
rhonasheridan:
Lovely Jayne. A beautiful poem. A wonderful Christmas to you and your family. J
Posted 12/24/2016 03:40 AM
vscholtz:
Thanks for the prayer. Merry Christmas.
Posted 12/24/2016 02:55 AM