The stormy winter's come at last,
With snow and rain and bitter blast;
Ponds and brooks are frozen o'er,
We cannot sail there any more.

The little birds are flown away
To warmer climes than ours;
They'll come no more till gentle May
Calls them back with flowers.

Oh, then the darling birds will sing
From their neat nests in the trees.
All creatures wake to welcome Spring,
And flowers dance in the breeze.

With patience wait till winter is o'er,
And all lovely things return;
Of every season try the more
Some knowledge or virtue to learn.

This poem is in the public domain.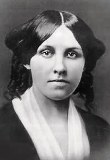 Louisa May Alcott was one of four daughters born to Bronson and May Alcott. Poverty was their constant companion; Mr. Alcott spent most of his life teaching and philosophizing and Louisa worked from an early age to help with expenses. She worked as a governess, a seamstress, a laundress, and a nurse but, at heart, she was always a writer. Her work ranged from gentle children's stories to torrid romances; her first book, published at the age of 23, was a collection of stories for Ralph Waldo Emerson's daughter, who was a friend and neighbor. (Other neighbors in Concord, Massachusetts, included Henry David Thoreau and Nathaniel Hawthorne.) Louisa's best known work is Little Women, which has never been out of print since it was first published in 1868; it has been translated into more than fifty languages.
Jancan:
My kind of poem, Jayne. Thanks. Janice
Posted 12/24/2016 09:42 AM
blueskies:
...all lovely things return. Sweet poem. Thanks, Jayne & Louisa May, too.Smiles.
Posted 12/23/2016 12:57 PM
Sherry:
This poem has such a progressive rhyme scheme. Very interesting.
Posted 12/23/2016 10:55 AM
Katrina:
Simplification is a powerful skill.
Posted 12/23/2016 10:52 AM