I have jest about decided
it 'ud keep a town-boy hoppin'
Fer to work all winter, choppin'
Fer a' old fire-place, like I did!
Lawz! them old times wuz contrairy! - 
Blame backbone o' winter, 'peared-like,
Wouldn't break! - and I wuz skeerd-like
Clean on into Febuary!
Nothin' ever made we madder
Than fer Pap to stomp in, layin'
On a' extra fore-stick, sayin'
"Groun'hog's out and seed his shadder!"
This poem is in the public domain.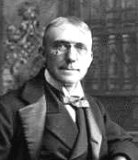 James Whitcomb Riley (1849 - 1916) was an American poet best known for his children's poems and dialect-based verses. James was born in Greenfield, Indiana, and later moved to Indianapolis; homes in both cities are preserved and open to the public today. James was hugely popular during his lifetime. A bestselling author who traveled the country speaking to sell-out crowds, he never married or had children of his own, but he loved children and they loved him back. When he died, more than 35,000 people came to pay their respects as James lay in state under the Indiana capitol dome.  
barbsteff:
Clever poem. Dialect a big hard for me to decipher. Our local Green Bay weatherman said, whether the groundhog sees his shadow or not, we're in for 6 - 8 weeks more of winter. Now that I'm an old grownup, I appreciate that. Wouldn't have liked hearing it as a kid.
Posted 02/02/2017 01:40 PM
Michael:
Delightful post, Jayne. Riley's Indiana brogue is engaging and warm making one recall older and wiser people we knew in childhood.
Posted 02/02/2017 10:03 AM
paradea:
Love this!!
Posted 02/02/2017 09:47 AM
Jean :D:
Best slant on Groundhog Day I've ever come across. Of course I'm a big fan of JWR. Nice choice Jayne.
Posted 02/02/2017 08:51 AM
Jancan:
Love it! Great choice for the day. Thanks. Janice
Posted 02/02/2017 08:20 AM
David:
Great selection for today. Unfortunately he seed his shadder in these here parts too!
Posted 02/02/2017 08:01 AM
vscholtz:
Humor in the face of adversity. What fun.
Posted 02/02/2017 05:57 AM