this morning in the rain I chased your car
halfway down the street intent on ranting
about pots and baking pans greasing up
the sink and sheets of Fed-Ex bubble wrap
obscuring piles of mail and your grey coat
invading my green chair but I wasn't
fast enough to catch your rearview glance
so I punched your cell to sear your day                                           
with guilt for how I felt put-upon/
crowded-out/ and all those pent-up things
I never say until they burn and how
I could forgive if you were off to work
to shop to pray not out to lunch with friends
but I struck delete when I recalled
your kiss good-bye and words we vowed to say
(Let us be kind) when love's reduced to sniping/
blaming/hurt and smallest things conspire
to ruin sunsets on a Maui beach
or walks around our autumned neighborhood
so this is just to let you know I've scrubbed
the pans/re-hung your coat/cleared out debris
from my morning's discontent practicing
Let me be kind again and then again   
This poem first appeared in Star 82 Review (September 2014).
Used here with the author's permission.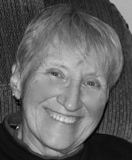 After forty years in the academic and business worlds, Carolyn Martin is blissfully retired in Clackamas, Oregon, where she gardens, writes, and plays with creative friends. Since the only poem she wrote in high school was red-penciled ?extremely maudlin," she is amazed she has continued to write. Carolyn is the co-author of four books on generational diversity in the workplace, and the author of two poetry collections.
Michael:
Love "let's be kind", Carolyn. In a season of acrimony in the world of politics this poem applies to just about all of us whether political or not! Thank you.
Posted 02/01/2017 10:14 AM
Lori Levy:
Great!
Posted 02/01/2017 10:12 AM
blueskies:
Well crafted. A reminder that is ageless. Thank you,Carolyn.
Posted 02/01/2017 09:59 AM
Wilda Morris:
A great reminder of what is important!
Posted 02/01/2017 09:24 AM
suzanne:
Thank you for the reminder
Posted 02/01/2017 07:40 AM
rhonasheridan:
Haven't we all felt that way sometimes!
Posted 02/01/2017 06:26 AM
Katrina:
Let us be kind.
Posted 02/01/2017 02:17 AM