Like Frost's poem, we two diverged when 
the road from childhood trailed off at the altar.
She, of a sensible pumps persuasion, 
left Main Street to see the world
on the arm of a dashing commander.
I, a would-be gypsy with a penchant for 
accents and adventures du jour, stayed 
down South raising beasts and rowdy boys.
Our paths cross, though not enough.
More often, we engage in adagio duets
played with gusto in the key of fiber optics—
her with news of the Smithsonian's latest exhibit,
the royal family's recipe for lobster bisque;
me with tales of church picnics and belly flops
in the backyard pool.
Lives shared in a series of vicarious tête-à-têtes,
exchanging triumphs and trials and trivialities,
for who but sisters can explore—with abject honesty—
such dire concerns as original sin, 
suede after Easter, world peace,
and skin tags?

From She of the Rib (CRM Books, 2006).
Used here with the author's permission.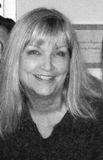 Jayne Jaudon Ferrer is the author of four books of poetry and a nonfiction book about games. She speaks frequently at chuches, schools, and writing-related events and her work has appeared in hundreds of publications. Jayne is the founder and editor of YourDailyPoem.com and enjoys reading, music, old movies, and good conversation. A native Floridian, Jayne has lived in Greenville, South Carolina, for more than 20 years. Learn more about her at www.jaynejaudonferrer.com.
Alarie:
I've always wanted a sister, and your engaging poem made me wish even more. Fortunately, I have some wonderful sister-friends.
Posted 02/03/2017 01:24 PM
Wilda Morris:
You catch and concretize an important truth! Thanks!
Posted 02/01/2017 09:26 AM
carel:
I've finally met Jayne. Now I feel more a part of this lovely sharing!
Posted 01/31/2017 04:54 PM
TheSilverOne:
Not only sisters, but old friends can also have that connection...Loved this poem ~~~Doris Bezio
Posted 01/31/2017 12:22 PM
KevinArnold:
What fun! Different yet alike, these two.
Posted 01/31/2017 10:58 AM
Sharon Waller Knutson:
Bound by Blood captures the special connection sisters possess that long distance and separate lives can't break. As a sister, who has a special bond with my long distance sister, I can relate.
Posted 01/31/2017 10:13 AM
LindaCrosfield:
A lovely reminder of how lucky I am. I've got two, and they leave less than an hour's drive away! Good one, Jayne.
Posted 01/31/2017 09:50 AM
Lori Levy:
Beautiful poem,Jayne. I love all the images and love the ending.
Posted 01/31/2017 09:49 AM
wendy morton:
Sister!!!
Posted 01/31/2017 09:26 AM
DavidTookey:
"...a would-be gypsy with a penchant for accents and adventures du jour..." Perfect!
Posted 01/31/2017 09:24 AM
hujsaked@aol.com:
Happy Birthday, Vera!
Posted 01/31/2017 08:57 AM
Glen Sorestad:
A fine poem, Jayne, and a great tribute to sisterhood.
Posted 01/31/2017 08:47 AM
Jancan:
Absolutely love it! Janice
Posted 01/31/2017 08:46 AM
Gilbert Allen:
This heartfelt poem made me think about my older brother--he lives up North, and I wish I saw him more often. Maybe when he retires. . . . Thanks, Jayne.
Posted 01/31/2017 08:13 AM
Michael:
Wonderful poem, Jayne, that captures so many precious moments and life experiences shared in the love of sisters.
Posted 01/31/2017 08:09 AM
Nabby Dog:
I have a warm connection with this wonderful poem. I am eight years younger than my only sister and now, in my late 60's, I continue to benefit from her wisdom and love. "Bound by Blood" shines with the one of a kind beauty of such a nourishing relationship and we readers are all richer this morning because of Jayne's poem.
Posted 01/31/2017 07:49 AM
Larry Schug:
I think that if my baby sister had lived, I'd be a little different person than the one who grew up with five younger brothers (all of us rowdy and usually accompanied by a beast. Thanks, Jayne (and for this dynamite site.
Posted 01/31/2017 07:18 AM
mimi:
good poem, Jayne, and lucky you to have a sister!
Posted 01/31/2017 07:12 AM
Jean :D:
I have an older sister & we're complete opposites but we finally "mearged", though she's still the nun & I the wife & mother. Heartbreakingly she now has alzheimers & occasionally knows me. She's still special to me.
Posted 01/31/2017 07:09 AM
mjorlock:
I really enjoy some of the lively word play here: "sensible pumps persuasion"; "adventures du jour"; "in the key of fiber optics"...builds to a satisfying conclusion.
Posted 01/31/2017 07:03 AM
JanetruthMartin:
simply wonderful from beginning to end!
Posted 01/31/2017 06:58 AM
blueskies:
What a special poem. You honored & embraced sister's beautifully! Many thanks, Jayne.
Posted 01/31/2017 06:37 AM
Jim Ellis:
Jayne, your poem is beautiful - so vivid, so tender, so universal. Last line is a classic. Jim Ellis/Auburn, NY
Posted 01/31/2017 06:12 AM
phebe.davidson@gmail.com:
Thank you for this! --- the perfect thing to read as light rises to the east and cats purr from perches on my desk and knees!
Posted 01/31/2017 06:01 AM
rhonasheridan:
I see this in my children and especially in my grand-children. A lovely poem. Aren't families amazing!
Posted 01/31/2017 05:43 AM
David Lloyd-Jones:
Sweet! I'll pass it on to my elder two daughters.
Posted 01/31/2017 02:17 AM
Alarie Tennille:
I always wished I had had a sister, and you made me wish it again. Glad your lives circled back together.
Posted 01/31/2017 02:09 AM