The one with violets in her lap
seems hesitant, bemused
by this unexpected gift upon her bench.
 
If her lover knows the language of the flowers
then violets speak of faithfulness and love.
Or does he know the herbalist's tradition ?
its calming cure for tempers that have flared?
Perhaps he thinks of Mark Twain's observation:
the scent's forgiveness on the crusher's heel . . .
 
And so she sits in furrowed contemplation. 
Violets for apology or love?
Has he made some serious transgression
that she has yet to find out all about?
Or is he saying, "I've been ever faithful
and always will be true to you, my sweet"?
 
When finally he comes around the hedgerow
he says, "They're purple, and so I thought of  you."
She lets out breath she'd not known she was holding.
Oh, simple, sweet, uncomplicated man!
"My favorite color -  purple! Thanks, I love them!"

© by Pat Brisson.
Used with the author's permission.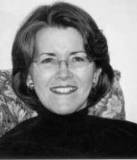 Pat Brisson is a former elementary school teacher, school librarian, and reference librarian in a public library. She has been writing picture books and easy-to-read chapter books for almost thirty years. Pat coordinates Project Storybook, a program at Edna Mahan Correctional Facility for Women in Clinton, New Jersey, which allows incarcerated mothers to select, record and mail books and tapes to their children. She received the N. J. Governor's Volunteer Award in Human Services for this wonderful project. Pat lives in Phillipsburg, New Jersey; learn more about her at www.patbrisson.com.
rhonasheridan:
Mmm! Oh yes.
Posted 02/05/2017 04:10 AM
KevinArnold:
A charming poem, cutting through all the marketing language of flower-color.
Posted 02/04/2017 12:59 PM
Lori Levy:
Love the progression of this poem.
Posted 02/04/2017 12:16 PM
transitions:
So true...lovely poem.
Posted 02/04/2017 12:16 PM
Zanna:
A delightful poem! And the project described in your bio with incarcerated mothers... such a kindness! Thank you for both.
Posted 02/04/2017 12:12 PM
ldk:
Just lovely!
Posted 02/04/2017 11:41 AM
blueskies:
So special & heart warming. Thanks, Pat.
Posted 02/04/2017 09:57 AM
Katrina:
Violets always make me think of Ophelia.
Posted 02/04/2017 03:24 AM