The Fletcher
is to the knight
as the baker
is to the banquet,
as the weaver
is to the twine,
as you are
to me.
© by Patricia Wellingham-Jones.
Used with the author's permission.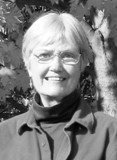 Patricia Wellingham-Jones lives on a creek in rural northern California where she enjoys writing about the things that happen around her – past and present. A retired RN, psychology researcher, and editor/writer/publisher, she is the author of a number of books and has a special interest in healing writing. Chapbooks include Don't Turn Away, poems about breast cancer; End-Cycle, poems about caregiving; Apple Blossoms at Eye Level, Voices on the Land, and Hormone Stew.
blueskies:
A shining celebration of LOVE! Thanks, Patricia.
Posted 02/05/2017 04:12 PM
Lori Levy:
I agree with David's comment.
Posted 02/05/2017 12:42 PM
David:
Simple and elegant. Nicely done!
Posted 02/05/2017 10:25 AM