Tonight a celebratory dinner for her
in a restaurant suiting the occasion.
She glows, is lovely
in her blue/white Evan Picone dress.
He sits opposite her at their table
which seems slightly longer than most
of that type would usually be.
Perhaps the distance is indicative
of their relationship.

Both are "ballroom" dancers", she
to relieve the pain of her past, he
to soften his realities.
They waltz together in a formal style,
a distance between them, in tango
a corte brings no lust, only comfort
in knowing the step well. Even Bolero
with its softness and romance
does not draw them together.

They will never be lovers and one day
she will dance away with another. But,
for tonight, with fine wine, good food,
and pleasant conversation there is
deep affection between them,
and the length of the table
seems to grow shorter
as the evening dances on.
© by Robert Manchester.
Used with the author's permission.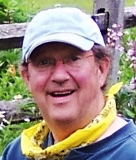 Robert Manchester (1943 - 2022) was born and raised in New Hampshire, surrounded by leafy trees, stone walls, and memories of Robert Frost, Jane Kenyon, Donald Hall, and Richard Eberhardt. He wrote and published poems for 50+ years, admitting that he much preferred writing to submitting, although his work appeared in print frequently. Robert especially enjoyed writing "edgy" poems, he said, about "the underbelly of life--the junk cars, tumbledown trailers, goat pens in the front yard, and the like." In addition to being a poet, he was a lifelong gardener and devoted volunteer at many charitable, educational, and public organizations.
Lori Levy:
Beautifully expressed.
Posted 02/07/2017 01:18 PM
paradea:
I love this poem!!
Posted 02/07/2017 12:18 PM
Jancan:
I truly enjoyed this lovely, bittersweet poem. Dance is used very effectively metaphorically. Janice
Posted 02/07/2017 09:29 AM
hujsaked@aol.com:
Fine poem,Robert, from someone who thinks everyone should dance. War would be unthinkable.
Posted 02/07/2017 08:50 AM
Larry Schug:
Life is a dance. Something is always holding on or spinning away and there is a beauty in that. Fantastic poem.
Posted 02/07/2017 07:27 AM
KevinArnold:
Yes, a poem that explores an inexpressible distance.
Posted 02/07/2017 06:56 AM
phebe.davidson@gmail.com:
wonderful point of view!!! Still--there's something about a tango...
Posted 02/07/2017 06:01 AM
blueskies:
This is a treasure! Thanks Robert & Jayne.
Posted 02/07/2017 05:09 AM