Her fingers brushed my wrist --
The inside
Where a man's life
Rarely scars --
Resting for a heartbeat
On my only patch of rose petal skin,
Stirring that Phoenix within us all,
Still there,
Despite dusty decades.
© by Robert Walton.
Used with the author's permission.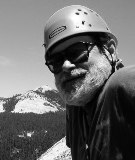 Robert Walton is a retired teacher with thirty-six years of service. He is also an experienced climber and mountaineer who has climbed in Yosemite, the Sierras and, especially, Pinnacles National Monument, his ?home crags." Robert write fiction as well as poetry; his novel, Dawn Drums, won first place in the 2014 Arizona Authors Association?s literary contest, as well as the 2014 Tony Hillerman Best Fiction Award. Learn more about him here.
Lori Levy:
Beautiful language.
Posted 02/11/2017 08:51 PM
Mary Lou Taylor:
Love the "dusty decades." And the tender touch.
Posted 02/11/2017 03:48 PM
blueskies:
Whoa...This was so unexpectedly gripping. Am on my 5th revisit. Many thanks, Robert.
Posted 02/11/2017 02:34 PM
CamilleBalla:
Agree with all of the other comments. Excellent poetry!
Posted 02/11/2017 12:50 PM
AllegraSilberstein:
What a beautiful poem...thank you.
Posted 02/11/2017 12:05 PM
transitions:
Agree, Jean D.
Posted 02/11/2017 11:49 AM
Jean :D:
A rough and rugged man, with a kind & sensitive heart,and an excellent poet. Hard to find that kind, glad you did.
Posted 02/11/2017 11:26 AM
Glen Sorestad:
Beautiful poetic condensation. Well done, Robert.
Posted 02/11/2017 09:07 AM
KevinArnold:
Yes. A poet's eye to highlight that protected inner wrist and the dusty decades.
Posted 02/11/2017 08:44 AM
David:
Very nice. Love the simplicity and the rhythm.
Posted 02/11/2017 08:01 AM
vscholtz:
Brief and beautiful tribute.
Posted 02/11/2017 06:04 AM