Fretting about the small this morning — my husband's
trip to have his driver's license renewed, the welfare
of my son's two dogs, alone in the upstairs apartment —
I find myself wishing for a single day free of anxiety.
Nothing but realized disaster would make that possible.
Meanwhile, obsessive thoughts: will we both be alive
to celebrate this day next year? I hedge my bets but
they can't be covered. Like the trash on Tonawanda
Street, they're orts, scraps, useless scrip of the mind.

Here, now, in our bedroom, orchids are opening,
greeny-white blooms etched with purple, white ones
striped violet, a "baby" orchid with a shred of blossom
hanging on. Yesterday was wild melange, November,
April, leaden clouds, white openings, tempestuous
sudden gales, as if weather of several seasons met and
battled, leaving winter today, pure, cold, triumphant.
A day like our wedding, epithalamion inscribed in ice.

My husband comes into the room now and refills
my cup. I want it but coffee's not what I need —
drink, drug, crutch. I need change, choice, need
what would allow changes, choices, the unfinished,
the imperfect real. I need a source, rush of renewal,
gift, radiating power I can't control or imagine.
© by Sandra Kohler.
Used with the author's permission.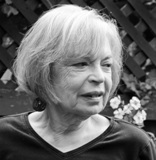 Sandra Kohler describes herself as "a septuagenarian, wife, mother, mother-in-law, grandmother, lover of Shakespeare and Elena Ferrante, of mysteries and crossword puzzles, of Philadelphia Flyer's hockey and the music of Mahler, Sibelius and Dvorak, gardener, sometime teacher and, above all, I hope, a poet." The author of three collections, one of which won the 2002 Associated Writing Programs Award Series in Poetry, Sandra lives in Dorchester, Massachusetts.
MegCampbell:
Word choice precise and luminous gifts.
Posted 02/11/2017 05:25 AM
rhonasheridan:
This hits a home run. Amazing.
Posted 02/11/2017 04:19 AM
Mary Lou Taylor:
Powerful.
Posted 02/10/2017 04:11 PM
Lori Levy:
Especially like the second stanza. Beautiful!
Posted 02/10/2017 12:08 PM
Michael:
Dear Sandra, Love your use of detail in this poem--so real!
Posted 02/10/2017 10:26 AM
wendy morton:
Because there are always orchids opening.
Posted 02/10/2017 09:29 AM
bourgom:
Well crafted and poignant. My congratulations
Posted 02/10/2017 08:04 AM
Larry Schug:
I think many of us (all of us) carry the same thoughts. You've expressed them as only poetry can. And you have added to my vocabulary!
Posted 02/10/2017 07:14 AM
blueskies:
A soul revealed with much wisdom & beauty. Thanks, Sandra.
Posted 02/10/2017 05:43 AM
Katrina:
This is beautiful.
Posted 02/10/2017 04:40 AM