You so pervade my being
Like oxygen in air,
That wherever I ever am,
You also are.
From single I've grown
To two-in-one;
You're my expansion
And my delight,
And in my grief
You turn my tears
To drops of pearl;                                                                                                                    
What's lead in me
You change to gold --
You've made me rich beyond comparison,
And when I dispense
From my abundance,
I see your hand
In all my giving.
In a world from where monarchy has gone
You're my Queen
And I'm your King,
And there's nothing that we gaze upon
That isn't gilded
By our union.
It's thanks to you
I'm thus transformed
From an also-ran
To a miracle man.
© by Gautam Sen.
Used with the author's permission.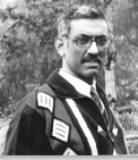 Gautam Sen lives in Kolkata (Calcutta), India. Widely published in various print and online publications around the world, Gautam is the author of a nonfiction best-seller in India called The Mind of Swami Vivekananda, a children's novel, The Fantabulous Fens, and two volumes of essays and letters. Says Gautam, "My inner life has always centered round three things: my wife (my inspiration), meditation, and my literary efforts. My wife passed into spirit a few years ago, but my priorities have remained the same."
Daddo1996:
Thank you for your bravery and love of life, the passion is inspiring. May God Bless you and keep you in peace this Valentine's Day close to her!!
Posted 02/09/2017 02:10 PM
AllegraSilberstein:
Thank you for this beautiful poem.
Posted 02/09/2017 11:35 AM
KevinArnold:
ah yes, in a world where monarchy is gone / You're my Queen / And I'm your King. Haunting.
Posted 02/09/2017 10:00 AM
Lori Levy:
Great to read such a positive poem!
Posted 02/09/2017 10:00 AM
Jean Colonomos-1:
Jean A beautiful tribute.
Posted 02/09/2017 08:34 AM
paula:
Lovely!
Posted 02/09/2017 05:27 AM
rhonasheridan:
Charming
Posted 02/09/2017 05:02 AM
vscholtz:
Thanks, Jayne, for showing me a new (to me)poet. And thanks to Gautam Sen for sharing this beautiful tribute
Posted 02/09/2017 04:55 AM