I sit among the hoary trees 
With Aristotle on my knees 
And turn with serious hand the pages, 
Lost in the cobweb-hush of ages; 
When suddenly with no more sound 
Than any sunbeam on the ground, 
The little hermit of the place 
Is peering up into my face? 
The slim gray hermit of the rocks, 
With bright, inquisitive, quick eyes, 
His life a round of harks and shocks, 
A little ripple of surprise. 

Now lifted up, intense and still, 
Sprung from the silence of the hill 
He hangs upon the ledge a-glisten. 
And his whole body seems to listen! 
My pages give a little start, 
And he is gone! to be a part 
Of the old cedar's crumpled bark. 
A mottled scar, a weather mark!

This poem is in the public domain.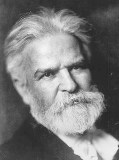 Edwin Markham (1852 – 1940) was an American poet and essayist. A teacher, principal, and school superintendent early in his career, he eventually wrote eight books and served as Oregon's poet laureate. Forced to work as a farm laborer as a child, Edwin frequently spoke out against child labor and on behalf of the working class.
milesss:
a poem about a lovely little quick old fellow!
Posted 10/31/2019 02:05 PM
milesss:
Posted 10/31/2019 02:03 PM
Mary Lou Taylor:
The Edwin Markham house at History Park in San Jose, CA, has many events, all by San Jose Poetry Center. It's an interesting place to visit. SJPC has the use of the whole park. Markham's famous poem is "The Man with the Hoe.:
Posted 03/07/2017 01:53 PM
Gilbert Allen:
I'd never seen this fine poem before. The diction and images are really striking.
Posted 03/07/2017 09:34 AM
paradea:
I love this!! It's great.
Posted 03/07/2017 09:02 AM
Jean Colonomos-1:
Jean: I've lots of lizards where I live. I will mention this fun poem to them.
Posted 03/07/2017 08:59 AM
Barry:
Nice to see a poem by Edwin Markham. First poem I ever read by him was "The Man with the Hoe," which is a very powerful poem. Thanks for posting this.
Posted 03/07/2017 07:50 AM
vscholtz:
with no more sound Than any sunbeam What an imagination. Thanks
Posted 03/07/2017 06:41 AM
blueskies:
A pure delight! Thanks Jayne.
Posted 03/07/2017 06:27 AM
JanetruthMartin:
This is superb! Esp. the ending lines of each stanza!
Posted 03/07/2017 06:08 AM