It was over forty years ago
on a crowded street
in a foreign land
we were going to the fair
as my daughter called it
the Thursday street market
house wares and vegetables
cheap clothes and shoes
pannekoeke with powdered sugar
and pickled herring to be swallowed whole
There we were
meandering along the carless street
I not yet thirty with long blond hair
my towheaded children five and two
the little one still in a stroller
when an old man on a bicycle
balding and smiling
with a deep kind face
came riding toward us
our eyes met and held
the gaze a forever knowing
his look a confirmation
and more a blessing
then he was gone
I stood stunned
seeing myself in his infinitely clear eyes
a strong young mother
loving her children
her day her life
the future unknown but wide open
a woman feeling rightly on her way
© by Signe Eklund Schaefer.
Used with the author's permission.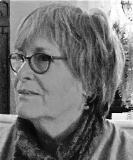 Signe Eklund Schaefer is the author of three books and her articles and poems have appeared in numerous anthologies and journals. Always a lover of words, she more or less abandoned writing poetry, though, except for celebratory family ditties, at midlife. Those were the years of making a home amidst a lot of moving, teaching adults, writing some prose, and wondering at the mysteries of human development. Now retired, Signe has re-discovered the joy of inviting poems to express daily moments and memories. She lives in western Massachusetts with her husband of almost 50 years and is preparing her first chapbook.

Jancan:
I love the way this poem conveys the theme that sometimes a look is--more than just a look. Janice
Posted 03/09/2017 07:49 AM
Lori Levy:
Love the way this poem captures a special moment.
Posted 03/09/2017 12:41 AM
BonnieSchupp:
I love this on so many levels...the knowing look between strangers in a brief encounter and the power to embrace where you are in the moment...the affirmation.
Posted 03/08/2017 08:37 AM
cscoville:
A beautiful description of one of those fleeting moments when we recognize the magic and beauty of our everyday lives.
Posted 03/08/2017 08:27 AM
KevinArnold:
. . . Rightly on her way . . . That wonderful, often fleeting feeling we sometimes get, usually related to properly raising children. Captured so well.
Posted 03/08/2017 08:23 AM
cork:
The communication in a look has been captured in your poem.
Posted 03/08/2017 07:49 AM
phebe.davidson@gmail.com:
Surely one of life's most memorable moments!
Posted 03/08/2017 05:26 AM