Black swallows swooping or gliding
In a flurry of entangled loops and curves;
The skaters skim over the frozen river.
And the grinding click of their skates as they impinge upon the surface,
Is like the brushing together of thin wing-tips of silver.
This poem appears to be in the public domain.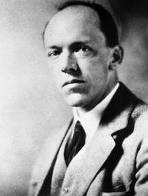 John Gould Fletcher (1886 - 1950) was born in Arkansas and educated at Harvard, though he did not graduate. He lived in England for much of his life, where he became friends with poets Amy Lowell and Ezra Pound. One of a group of twelve writers called the "Southern Agrarians," John was vocal in his distaste for the industrialism and urbanization, especially regarding its impact on the South. Awarded the Pulitzer Prize for poetry in 1939, John was, unfortunately, a victim of depression and committed suicide at the age of 64.
Wilda Morris:
Beautifully put. I was not aware of this poet, despite the fact that he was a Pulitzer Prize winner. Thanks for sharing this little poem.
Posted 01/25/2015 09:26 PM
anne.lehman2929@att.net:
This poem is a lovely combination of movement and sound with a deep sense of longing in that last line: "like the brushing together of thin wing-tips of silver." Thanks for introducing me to this poet.
Posted 01/25/2015 11:37 AM