The birches that dance on the top of the hill
Are so slender and young that they cannot keep still,
They bend and they nod at each whiff of a breeze,
For you see they are still just the children of trees.
But the birches below in the valley are older,
They are calmer and straighter and taller and colder.
Perhaps when we've grown up as solemn and grave,
We, too, will have children who do not behave!
From Songs For Parents (Yale University Press, 1921)
This poem appears to be in the public domain.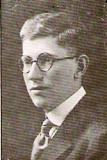 Born in Burlington, Vermont, and educated at Yale, John Chipman Farrar (1896 - 1974) was one of the founders of what is today Farrar, Strauss, and Giroux, one of America's most successful publishing companies. He served in both WWI and II and his wife, Margaret, was a "crossword puzzle genius" who started out at the NY Times. John was responsible for organizing the first Bread Loaf Writers' Conference in 1926.
wordlover:
Reminded me of Frost's "One could do worse than be a swinger of birches."
Posted 01/24/2015 05:35 PM
KevinArnold:
Yes, great fun. And he definitely made a contribution by starting the Breadloaf tradition. It's amazing the role Yale has had in the world of letters. The optimum distance from the big apple?
Posted 01/24/2015 04:11 PM
Cindy:
totally charming!
Posted 01/24/2015 08:36 AM