Now winter nights enlarge
The number of their hours,
And clouds their storms discharge
Upon the airy towers.
Let now the chimneys blaze,
And cups o'erflow with wine;
Let well-tuned words amaze
With harmony divine.
Now yellow waxen lights
Shall wait on honey love,
While youthful revels, masques, and courtly sights
Sleep's leaden spells remove.

This time doth well dispense
With lovers' long discourse;
Much speech hath some defence,
Though beauty no remorse.
All do not all things well;
Some measures comely tread,
Some knotted riddles tell,
Some poems smoothly read.
The summer hath his joys
And winter his delights;
Though love and all his pleasures are but toys,
They shorten tedious nights."
This poem is in the public domain.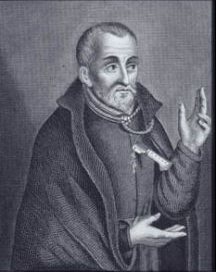 Thomas Champion (1567 - 1620) was an English writer, composer, and physician. Orphaned as a child, Thomas was able to gain an excellent education through money left from his parents' estate. He studied law for a time, but ultimately turned to medicine and had, by all accounts, a thriving career. Writing was always a significant part of his life, though; in addition to poetry, Thomas wrote a number of plays, several nonfiction works, and hundreds of songs.
paradea:
Eternally-true sentiments!
Posted 01/23/2015 09:21 AM
rhonasheridan:
Some lovely humour here. Great fun. KevinArnold is quite right. Five hundred years and all seems so much the same!
Posted 01/23/2015 01:08 AM
KevinArnold:
For almost five hundred years old, this poem seems remarkably fresh.
Posted 01/22/2015 11:21 PM