When the trail gave us up,
he was there—just sitting
in a pickup that carried
stories in dents and dings,
scrapes and scratches telling
of good times gone not so.
Propping the door open
he leaned into the vee
of windshield and door.
"You seen a man and a dog
up there in the pasture?" 

No, but never mind, it was just
an opening for other words
to slip through—words like
family and woods and used-to-be.
And so we stood
and we talked.
Companionable. Companions.
No introductions,
no bandying about of names, just
kinship like the air between us.
The afternoon breeze whispered,
"This is how the world was meant to be.
This is how we were meant to be in it."
© 2008 by Sarah Anne Loudin Thomas
Used with the author's permission.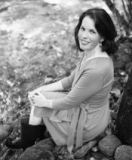 Sarah Loudin Thomas grew up on a 100-acre farm in French Creek, West Virginia, the seventh generation to live there. Her poetry and novels celebrate the people, land, and heritage of Appalachia. Sarah currently oversees fundraising and communications for a Christian children's home in Black Mountain, NC. She and her husband Jim live in the mountains of Western North Carolina, where Sarah is active in her local church and enjoys cooking and reading.
Jo:
Your poem is refreshing. Reminds me some of Steinbeck's Travels with Charlie--those wonderful exchanges that lighten our spirit.
Posted 01/27/2015 10:55 AM
mukwonagosue:
Love this--simple storytelling, with heart and pictures.
Posted 01/27/2015 09:47 AM