The girls giggled
but the boys laughed right out loud
when Mrs. Stone raged crimson
holding my eighth grade project:
"The Map of New Jersey."
"Get up here, boy!"
and I had no choice
but to walk the gangplank to her desk
where my map choked in her fist.
"What's this jazz? Huh?
The ocean is not green, Bub, it's blue.
Ya' get it? Blue, blue, blue, blue!"
punching my map with each word into my chest.
My classmates roared a chorus
of "Green ocean! Green ocean!"
their voices rising in waves of laughter
as I carried the wrinkled and ripped map
back to my seat through their sneers.
Soon, all their maps perimetered the room
leaving me adrift in the memory of a Sunday
when, in the October air,
my father and I walked over seashells
and I, only nine,
remarked that the ocean looked green.
My father, peering out from beneath his cap,
said, "Yes, it does" and his fingers swam
through my hair.
From Dream Teaching (Grayson Books, 2004)
This poem first appeared in Pudding, Vol. 11.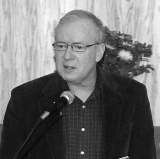 Edwin Romond  is a poet, playwright, composer, and educator. Now retired, he taught English for 32 years in Wisconsin and New Jersey.  Edwin's award-winning work has appeared in numerous literary journals, college text books and anthologies, and has been featured on National Public Radio. He maintains an active schedule of readings and presentations (check www.edwinromond.com to see if he's appearing anywhere in your area) and his most recent book is Dream Teaching (Grayson Books). A native of Woodbridge, NJ, Edwin now lives in Wind Gap, Pennsylvania, with his wife and son.
TheSilverOne:
Love this poem...had a similar experience!!!
Posted 01/31/2015 06:35 PM
paula:
Odd that we remember many unkind comments from childhood. I'm glad you remembered your father's as well. Beautiful ending.
Posted 01/28/2015 09:52 PM
Ginny C.:
Edwin Romond's poems are always worth reading--and then worth reading again.
Posted 01/28/2015 05:01 PM
peninsulapoet:
Superb Ending to a beautiful, redemptive poem.
Posted 01/28/2015 12:05 PM
zpoet:
"My father, peering out from beneath his cap, said, 'Yes, it does' and his fingers swam through my hair." Every once in a while poems end perfectly. This is one of those perfections. Dream Teaching is another one, a great book of poetry.
Posted 01/28/2015 11:13 AM
Jo:
My ocean as I sit here and type is green. It changes all the time. And who says an ocean can't be whatever color you feel it is? Love your green ocean.
Posted 01/28/2015 10:18 AM
Cindy:
such a beautiful ending
Posted 01/28/2015 09:12 AM
JanetruthMartin:
stunning!
Posted 01/28/2015 08:55 AM
Larry Schug:
I think we all see colors differently. My wife and I sure do. With nscott29--or dead whales and seals or just plain garbage. Color me angry, but very impressed with this poem.
Posted 01/28/2015 07:55 AM
mimi:
o so true and sad, but a good poem!
Posted 01/28/2015 07:54 AM
Janet Leahy:
An important poem to include in the curriculum for education students. Young children need the freedom to create, loved when my students made blue trees and purple trees, so much fun to see how expressive they could be. Kudos for your green ocean Edwin!
Posted 01/28/2015 07:40 AM
nscott29@aol.com:
I love this poem. How about coloring the ocean the color of oil slick or nuclear fallout or mutant fish?
Posted 01/28/2015 02:26 AM
fuddygail:
All too familiar but for those lovely last lines of redemption.
Posted 01/28/2015 12:14 AM