The robin sings at first light,
announcing new life in the old pine.
Below, sheltered by scruffs of willow
a fox kit blinks at sunrise from his den.
The barn cat's manger nursery has sweet hay.
Fields glow nascent green, and orchards
burst white promises of harvest.
Mortals, blind with logic, claim
January starts the year, while nature
shakes her lovely head and smiles,
knowing it begins in April.

This poem first appeared in VerseWrights.
Used here with the author's permission.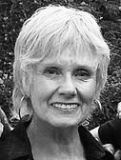 Sarah Russell lives in State College, Pennsylvania with a patient husband and a curly dog named Smudge. She co-edits Pastiche, a local literary magazine, and her poetry has appeared in dozens of journals and anthologies. Sarah humiliates her six grandchildren by knitting them sweaters for their birthdays. Learn more about her at https://sarahrussellpoetry.net/.
Jancan:
This is a beautifully descriptive poem! Janice
Posted 04/14/2017 10:26 PM
Sarah Russell:
Thanks, Mary Lou.
Posted 04/14/2017 08:38 AM
Mary Lou Taylor:
Great images. I've read your poem three times.
Posted 04/13/2017 02:47 PM
Sarah Russell:
Thanks, Everyone. I think I enjoy the rebirth of nature even more as I grow older. Funny how that works, isn't it.
Posted 04/13/2017 08:15 AM
Jean Colonomos-1:
Jean I like your work. It's original.
Posted 04/12/2017 10:31 AM
KevinArnold:
What fun! Feels appropriate, somehow, to Easter week.
Posted 04/12/2017 09:28 AM
Michael:
Sarah, wonderful poem and Jayne nice accompaniment via the image.
Posted 04/12/2017 09:26 AM
Alarie Tennille:
I've always thought it odd we don't change the new year to spring. Thanks for the lovely poem, Sarah.
Posted 04/12/2017 05:04 AM