I believe in the dark desk drawer,
the nubs of erasers too worn
to rub anything out, pencils
too short to be sharpened. Nibs
of pens, tips meant to screw
into barrels thirsty for ink.
An ode to penmanship in a time
of keyboards. I believe in all
the bits and piecesópaper clips
that no longer hold their uís, folded
slips of paper scribbled with illegible
words. I keep digging and find:
Brass fasteners. Three hole punchers.
Stamps in former denominations.
Gummed reinforcers, those little
life preservers. Snips of lead, pencil
shavings, staples that have slipped
out of line. Mucilage, its slit
of a mouth glued shut.† I believe
that although nothing I need
can be found here, in the tomb
of the no-longer-used, that even
the smallest scrap can somehow
be of use.
†
From Les Fauves (C&R Press, 2017).
Used here with the authorís permission.
†
†
†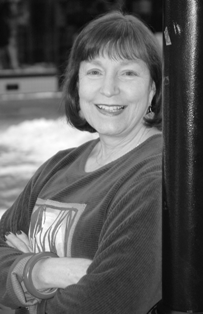 Barbara Crooker's poems have appeared in numerous magazines, journals, and anthologies and have been featured on the BBC, the ABC (Australian Broadcasting Company), The Writer's Almanac, and in the Poetry at Noon series at the Library of Congress. Her awards include three Pennsylvania Council on the Arts Creative Writing Fellowships, fifteen residencies at the Virginia Center for the Creative Arts, and a residency at the Moulin à Nef in Auvillar, France, which inspired her newest book, Les Fauves. Barbara lives in Fogelsville, Pennsylvania; read more about her at www.barbaracrooker.com.
Hilde Weisert:
A wonderful poem to read and re-read, savor the truth, the everyday simple beauty.
Posted 09/03/2018 11:45 AM
barbsteff:
Even the smallest acrap can be of use - proved by this poem!
Posted 04/13/2017 06:01 PM
transitions:
One of my favorite YDP poets, another beauty here, thx.
Posted 04/13/2017 04:01 PM
wendy morton:
Lovely junk.
Posted 04/13/2017 11:38 AM
joecot:
Barbara Crooker is a national treasure.
Posted 04/13/2017 11:13 AM
paradea:
Yep!!
Posted 04/13/2017 09:40 AM
Larry Schug:
I think we all learned this habit of hoarding from our parents or grand parents, the children of the Great Depression. It's a lesson that needs to be passed on. A bent paper clip can be used for other purposes, though we may not know what that is yet. Ya never know! Nice poem.
Posted 04/13/2017 09:33 AM
KevinArnold:
Marvelous. "Mucilage, its slit / of a mouth glued shut" My my.
Posted 04/13/2017 09:25 AM
Jancan:
I think she's been looking in my desk drawer! I find most of these things--and correction tape! Love this poem! Janice
Posted 04/13/2017 08:59 AM
Sarah Russell:
I thought that very thing, Rhona. Why can't we divest ourselves of that stuff? I open the drawer, shuffle around in it, never find what I need, and close it again. Delightful poem telling me other people are human too. Thanks.
Posted 04/13/2017 08:12 AM
Adele :
And pieces of string too short to tie.
Posted 04/13/2017 08:11 AM
mimi:
lives there a single person who does not have one of these "tombs???" thanks, Barbara!
Posted 04/13/2017 08:11 AM
Jean :D:
Barbara's delightful descriptions of even the smallest "scraps" keeps me from cleaning out my dark desk drawer because you "never-know-when-you-just-might-need-that...."
Posted 04/13/2017 07:29 AM
Katrina:
I love the tomb metaphor and the mucilage my random access memory no longer stores.
Posted 04/13/2017 04:07 AM
rhonasheridan:
Perfect! So I'm not the only one?
Posted 04/13/2017 03:57 AM