For Peter Eibeck


Wisdom is knowing when to let go without hurting,
when to hold on without holding someone back.
I see my friend, Peter, guiding David, his third child,
who sits atop his bike like someone on the tip
of a cliff enjoying the view but sensing danger
in the distance down. And, in the early spring Sunday
sunshine, Peter, who has done all this before
with Daniel and Josh, runs alongside David holding
the seat, keeping him steady as the wheels wiggle
back and forth on the pavement, wobbling so much
David would surely hit the street if not for Peterís
loving hand behind him. But no one grows without
a bit of risk so Peter lets his son search
for balance by finding for himself which is
too much to the left, too much to the right, until
David, whose smile belongs in a museum, begins
to find his center. By June, David will be zooming
past houses with his brothers and all the kids
who bless our block with young life. And little sister,
Elaina, will be waiting in the wings for her turn
to join the two-wheeled propulsion of her brothers.
In another spring Peter will, once again, hold his child
on a bicycle until she can move away on her own,
keeping her balance for the road that lies ahead.
†
From Dedications, Volume II: More Poems for Special People (2017).
Used with the authorís permission.
†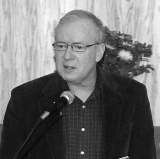 Edwin Romond is a poet, playwright, composer, and educator. Now retired, he taught English for more than 30 years in Wisconsin and New Jersey. Edwin's award-winning work has appeared in numerous literary journals, college text books and anthologies, and has been featured on National Public Radio. He maintains an active schedule of readings and presentations; check www.edwinromond.com to see if he's appearing anywhere in your area. A native of Woodbridge, New Jersey, Edwin now lives in Wind Gap, Pennsylvania, with his wife and son.



blueskies:
...until David, whose smile belongs in a museum, begins to find his center. What a beautiful visual/poem! Perfect for Father's Day,too. Thanks, Edwin.
Posted 04/21/2017 04:10 PM
pwax:
". . .like someone on the tip of a cliff enjoying the view but sensing danger in the distance down." Perfect expression of that look!
Posted 04/21/2017 11:30 AM
KevinArnold:
Muted and fun. Parenting takes as much creativity as any art. What did Maslow say? A first-rate soup is more creative than a second-rate painting. This poem acknowledges that all parts of our lives require full attention. Thanks!
Posted 04/21/2017 09:36 AM
vscholtz:
Thanks, Jayne, for sharing this poet (new to me). I love poems that lift up the stories of everyday life. The subtly of the message is as inspiring as the sights of spring outside my window this morning.
Posted 04/21/2017 08:42 AM
Katrina:
I like the reach of this poem. There used to be a pair of brothers in our street called Dan and Josh; I suppose David would come from the same testament. Balance is of such fundamental importance in our world.
Posted 04/21/2017 07:17 AM
Jim Ellis:
Edwin, that is one magnificent poem. I know of a few other poems on this exact theme that you might enjoy reading. (Shearin, "Teaching Mavis to Ride a Bike"; Stafford, "Maybe Alone on My Bike"; Philip Hammial, "Bicycle"; Bilgere, "Like riding a bicycle") If you can't locate them let me know and I'll email them to you. My wife and I just adored your poem. It is universal, wise, tender, honoring the courage and awe of children's yearnings. We've worked with kids our whole life, and you touched us this morning, thanks! Jim & Annie Ellis/Auburn, NY
Posted 04/21/2017 05:41 AM