The whole world
should be sent to their rooms,
told to sit still and do nothing
while Earth heaves a sigh of relief
free of us all.

She deserves to lean back,
close weary eyes, listen
to song of whale and wren,
soak bruised feet in icy lakes,
skin auburn in bright blue air.

Let the sun warm her millions
and millions of wounded miles;
let the moon caress
her millions and millions of scars
for one blessed day.
This poem first appeared in Fox Cry Review, (2010).
Used here with the author's permission.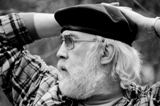 Jeffrey Johannes is an artist and poet who lives in Port Edwards, Wisconsin. He co-edited the 2012 Wisconsin Poets' Calendar with his wife, Joan.
Jeffrey is the author of a chapbook, Ritual for Beginning Again, and is currently combining his art and poetry to create comics, which he calls "pometoons." Learn more about him here.
tiddles:
Love it! "wounded miles" is very telling. What an appropriate metaphor.
Posted 04/23/2017 06:48 PM
Sarah Russell:
Beautiful!
Posted 04/23/2017 01:03 AM
transitions:
Sadly true, well done.
Posted 04/22/2017 05:21 PM
rhonasheridan:
Oh so right! I agree with this lovely poem
Posted 04/22/2017 01:42 PM
barbsteff:
Well said, Jeffrey! Better if lots of us followed the poem's advice.
Posted 04/22/2017 12:59 PM
Larry Schug:
Happy Earth Day, everyone! Good idea inside a good poem.
Posted 04/22/2017 07:52 AM
Laurenepersons:
Yes, indeed, the earth needs a respite from our greedy, thoughtless selves. Beautifully written.
Posted 04/22/2017 07:21 AM
paradea:
Exactly!!! Great poem.
Posted 04/22/2017 06:53 AM