All our life
so much laundry;
each dayís doing or not
comes clean,
flows off and away
to blend with other sins
of this world. Each day
begins in new skin,
blessed by the elements
charged to take us
out again to do or undo
whatís been assigned.
From socks to shirts
the selves we shed
lift off the line
as if they own
a life apart
from the one we offer.
There is joy in clean laundry.
All is forgiven in water, sun
and air. We offer our dayís deeds
to the blue-eyed sky, with soap and prayer,
our arms up, then lowered in supplication.


This poem first appeared in Making the Bed (Main Street Rag Press, 2004).
Used with the authorís permission.
†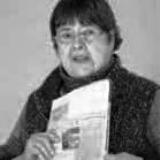 Ruth Moose was on the Creative Writing faculty at the University of North Carolina-Chapel Hill for 15 years. Author of three collections of short stories and six collections of poetry, her work has appeared in publications all over the world. Ruth, who lives in Pittsboro, North Carolina, was awarded a MacDowell Fellowship and, in 2009, received the prestigious Chapman Fellowship for Teaching. Her debut novel, Doing it at the Dixie Dew, was awarded a $10,000 Malice Domestic Prize. Ruth's most recent novel is Wedding Bell Blues (St. Martin's Press). Learn more about her at www.ruthmoose.com.
rhonasheridan:
One of the great joys of living in the country is hanging out the washing. Jeans coming back crisp on a winters day. The lovely smell of sun- dried woollies. A poem to copy and to treasure.
Posted 04/23/2017 10:29 AM
mjorlock:
Clever.
Posted 04/23/2017 09:46 AM
KevinArnold:
Ah yes, "There is joy in clean laundry. / All is forgiven in water, sun and air./ What an unexpectedly appropriate subject for a great poem.
Posted 04/23/2017 03:11 AM