Not noticing how the waitresses look at each other,
roll their eyes as I seat myself
on an empty chair at an empty table,
not knowing I've innocently sat
at the  "Regular's table" in the local café,
just before the first "Regular"
reaches for his usual chair,
sits down beside me, doesn't say a word,
as if I'm just a misplaced salt shaker,
when the second "Regular" sits down,
then the third, the fourth, the fifth.
They all begin talking at the same time;
no one says a word to me or gives me a glance,
and I finally get the hint, get up, head to the counter,
wondering on which stool I should sit
as I watch as the "Regular's table" fills up,
all but the chair where I sat.
A waitress coyly smiles at me, asks if I'd like coffee,
I say, no thanks, I'd rather have a cup of tea.
© by Larry Schug. 
Used with the author's permission.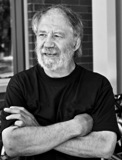 Larry Schug, after a work life of various kinds of manual labor and learning, is retired—a career he says he was born for. Author of seven collections of poetry, Larry is a volunteer writing tutor at the Writing Center at the College of St. Benedict and a volunteer naturalist at Outdoor U. at St. John's University. He lives with his wife, dog, and three cats near a large tamarack bog in St. Wendel Township, Minnesota.
ireneriz:
Dear Larry, I love your poem and want to offer it as a prompt at the Neopoet.com community of poets. Is that okay?
Posted 07/13/2018 06:24 PM
cork:
Beautiful focus!
Posted 04/25/2017 06:09 PM
CamilleBalla:
Wow...you write this irregular experience well. I like the way you carry it into your request for tea instead of coffee. This poem has inspired me to write - hopefully today. Thanks, Larry.
Posted 04/24/2017 12:28 PM
Janet Leahy:
To feel as insignificant as "a misplaced salt shaker," a great phrase. I like the details in the poem. Thanks Larry.
Posted 04/24/2017 08:14 AM