Who gave them permission?
Who said they're allowed?
They've spilled from neat edges
Becoming a crowd!

We've got to contain them
They're running amok!
Our lawns have turned purple
Where's the Chemical Truck?

Violets on the loose!
Violets on the loose!
© by Phyllis Beckman.
Used with the author's permission.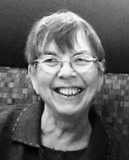 Phyllis Beckman begins her days with a candle, coffee, and Your Daily Poem. A lover of trees, she rues the loss of three ash trees from her Onalaska, Wisconsin corner lot to the emerald ash borer currently sweeping the area and is anticipating welcoming a replacement this summer. Phyllis says the "Driftless Area" is a beautiful setting for writing poetry and she credits the Wisconsin Fellowship of Poets and Women Writers Ink for keeping her on task.
transitions:
Violet power! Enjoyed this...
Posted 04/25/2017 12:19 PM
barbsteff:
I think violets will withstand the predations of the chemical truck. They are very hard, if not impossible, to kill. And I love them. Lawn experts say they're a sign of deficient soil in a lawn. I was happy when they appeared in our back yard, where they will have the run of the lot.
Posted 04/25/2017 11:09 AM
Janet Leahy:
I have favorite places to drive by just to see the violets. Oh yes, the chemical truck--BEWARE! Thanks Phyllis.
Posted 04/25/2017 10:13 AM
vscholtz:
I love this look at the world of spring.
Posted 04/25/2017 09:15 AM
blueskies:
Truly fun & special, too. Thanks, Phyllis.
Posted 04/25/2017 09:07 AM
Jancan:
So cute! Thanks for the alert! Janice
Posted 04/25/2017 08:42 AM
devitt.laur:
Those rascally violets! Would that all lawn culprits were as beautiful and fun as the violets and Phyllis' poem.
Posted 04/25/2017 07:02 AM
Jean :D:
Phyllis must have driven past my house. Only now I look at the violet abundance and smile, love the poem.
Posted 04/25/2017 06:33 AM
KevinArnold:
Whimsical and fun.
Posted 04/25/2017 03:01 AM