If I am to be known for one good deed
let it be for the appreciation I show
when the guy at security turns me back
because I've got a hand-held blender
in my carry-on and it has — he apologizes for this —
a serrated blade.

I suppose I should have known.
I expect one could manage to smuggle aboard a tiny screwdriver or Allen key,

perhaps a miniature wrench one could use
to detach the tiny blade one could then clutch
in one's arthritic but nevertheless lethal fingers and…

The bad guys have won, and I don't mean you,
I tell the security man, who nods sadly and offers
to take me out to check-in to get rid of my bag the fast way,
and bring me back through security the easy way,
and I love this guy who's just doing his job.
© by Linda Crosfield.
Used with the author's permission.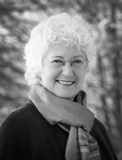 Linda Crosfield lived in Ottawa, Windsor, Montreal, Toronto and Vancouver before returning to the Kootenays where she was born. She is not fond of winter, preferring to spend as much of it as possible in a little fishing village in Mexico. The rest of the time she lives quite happily in Ootischenia in southeast British Columbia with her husband Ted, a woodturner. As overseer of her micro-press, Nose in Book Publishing, she produces chapbooks and handmade journals. Linda's poems appear in several literary magazines, chapbooks, and anthologies and she blogs sporadically at www.purplemountainpoems.blogspot.com.
Sarah Russell:
Smiling at this encounter.
Posted 04/27/2017 12:43 AM
blueskies:
Quite an unexpected delight! Thanks, Linda.
Posted 04/26/2017 07:19 PM
wendy morton:
The bad guys are winning. They should read your poem.
Posted 04/26/2017 11:26 AM
carel:
"...just doing his job" are touching words and can be applied to all of those people who are in the same stance. Let's watch for them today!
Posted 04/26/2017 10:07 AM
lincolnhartford:
Easy reading, well-written poem that handles a subtle moral and emotional dilemma of how to deal with injustice with wisdom, fueled with attendant charm and intelligence. Yep. L
Posted 04/26/2017 09:57 AM
paradea:
Yep!!
Posted 04/26/2017 09:41 AM
cscoville:
A wise and patient perspective that we should all adopt.
Posted 04/26/2017 09:20 AM