For JJF and YDP
Poetry, per se, these days will never make me wealthy;
but a poem a day consumed, I say, is key to staying healthy.

There's something in the well-turned phrase
or in the measured line
that lifts the spirit in such ways
approximating wine.
There's ecstasy in metaphor,
a state of grace imbued
when words in combination form
a heightened amplitude.

The body takes its nourishment
from what it can digest,
in meats, in grains, in nutriments
that make for stalwartness.
But souls subsist on sweeter things
than what can tease the tongue;
and poetry that soars and sings
keeps old men feeling young.
© by Mike Orlock.
Used with the author's permission.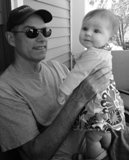 Mike Orlock is a retired high school English and American History teacher who splits time between the Chicago suburbs and a vacation home in Sturgeon Bay, Wisconsin. He has been married for 40 years to his high school sweetheart and inspiration, Liz, and greatly enjoys being grandfather to four beautiful little girls. Mike's short stories, poems, and reviews have appeared in a variety of publications and he was a Jade Ring winner in a contest sponsored by the Wisconsin Writers Association.
JanetruthMartin:
this is just fantastic! hear! Hear!!
Posted 05/01/2017 07:33 AM
TheSilverOne:
A good poem keeps an old lady feeling young, too. Very enjoyable poem.
Posted 04/30/2017 09:42 PM
mimi:
good one, Mike!
Posted 04/30/2017 08:36 PM
Jo:
What a wonderful poem to end Poetry Month--to start it for that matter, or anywhere in the middle. Really enjoyed it Mike.
Posted 04/30/2017 11:32 AM
Tickled Pink Janis:
Thanks, Mike! Janis in CA... a beautiful day :-)
Posted 04/30/2017 10:30 AM
cork:
Mike, you just reduced my age by 40 years.
Posted 04/30/2017 10:16 AM
KevinArnold:
What fun! Thanks.
Posted 04/30/2017 09:25 AM
blueskies:
Mike > YOU DID IT!!! Birthed a poem that so celebrates poetry & YDP. Keeps old gals feeling young,too. Smiles. Bless you & thanks!
Posted 04/30/2017 09:10 AM