Morning comes and,
with it, headlines
blaring hate and carnage
and suffering and sadness
and depravity and duplicity
and defeat.
Turn off the TV.
Put down the paper.
Walk outside.
Give yourself up
to fresh air and sunlight,
to butterflies and birdsong,
to growing things and
grazing things and
hope.
Rise above,
be lifted up,
inhale
and hold on,
hold on.
© by Jayne Jaudon Ferrer.
Used with the author's permission.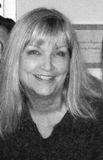 Jayne Jaudon Ferrer is the author of four books of poetry and a nonfiction book about games. She speaks frequently at chuches, schools, and writing-related events and her work has appeared in hundreds of publications. Jayne is the founder and editor of YourDailyPoem.com and enjoys reading, music, old movies, and good conversation. A native Floridian, Jayne has lived in Greenville, South Carolina, for more than 20 years. Learn more about her at www.jaynejaudonferrer.com.
SAR2126:
LOVE this....will get outside tomorrow morning for sure.
Posted 04/29/2017 10:37 PM
transitions:
Yes....
Posted 04/29/2017 08:48 PM
tiddles:
There is such healing in nature. We can all do our part to preserve that sanctuary. Love this poem, Jayne. Thank you for all you do to make poetry public! Marilyn Zelke-Windau
Posted 04/29/2017 08:16 PM
gatorhunterhunter:
I feel that every morning when I walk down to get the paper, seeing the new day, hearing the birds. What a great way to start each day! Thanks
Posted 04/29/2017 07:08 PM
Jo:
I'm with you Jayne. We read little news and watch even less. Being outside like you are in your poem is going forward.
Posted 04/29/2017 07:00 PM
Michael:
Well done Jayne! This is a wonderful survival kit for our times.
Posted 04/29/2017 02:49 PM
barbsteff:
A downer turned into an upper.
Posted 04/29/2017 01:46 PM
CamilleBalla:
Yes, we need to be reminded to inhale Spring and drink of its beauty that is there away from the TV which will blast all day long if we allow it to. Thanks for the wake up call, Jayne.
Posted 04/29/2017 10:56 AM
blueskies:
Inhaling a deep breath of the recognition & celebration of 'that which truly matters', Jayne. Thank you!
Posted 04/29/2017 10:15 AM
hujsaked@aol.com:
Nicely crafted, Jayne! "Those who contemplate the beauty of Earth find reserves of strength that will endure as long as life lasts." - Rachael Carson Ed
Posted 04/29/2017 09:52 AM
cork:
I love the contrasts!
Posted 04/29/2017 09:36 AM
Larry Schug:
Better yet, as John Prine once said."blow up your tv, throw away your paper". I would but my wife likes a little tv and I like the sports page. How else can a person keep abreast of what the dark side is up to? This poem leads to thoughtful thinking and living. good job!
Posted 04/29/2017 08:22 AM
JanetruthMartin:
growing things and grazing things... Does it get any better than that?! Jayne, I always appreciate your insightful poetry. Thank-you for the poetic-phoetic pleasure-trip you took us on through April!
Posted 04/29/2017 08:01 AM
Laurenepersons:
So right, so necessary, so simple... Just step away and step into nature. And yet the news is a train wreck, daring me to look away. Stories of impending war, divisive behavior, cuts in the arts and clean air prevail. After reading "Petition," I stepped out on the patio. A robin's nest with doting parents were the headlines. Thanks.
Posted 04/29/2017 07:26 AM
Sarah Russell:
Yes!
Posted 04/29/2017 06:21 AM
Jean :D:
Petition = a request..."Turn off the TV. Put down the paper..." This should be framed & hung in every room of the house! Good work, Jane
Posted 04/29/2017 05:56 AM
Katrina:
You don't have to hold on to a television, Jayne. Freedom is valuable. I do not want to provoke civil war in the Ferrer household though; I can see there is a process to be followed through 'Petition'.
Posted 04/29/2017 05:54 AM
rhonasheridan:
Oh how I agree with you. Every word. Why do I read my morning paper? I hate it - yet it is compulsive . This morning the sky is beautiful.
Posted 04/29/2017 03:13 AM