Little Nora and Grandpa Bill
sit on swings in Grandma's garden.
A hummingbird arrives to sample

the brilliant flowers at this buffet.
Grandpa Bill sees a teaching moment
and asks little Nora with a smile

if hummingbirds have beaks or bills.
Little Nora has a teaching moment,
says, "Grandpa, they have straws."

© by Donal Mahoney.
Used with the author's permission.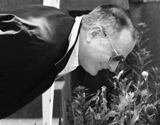 Donal Mahoney lives in St. Louis, Missouri. A native of Chicago, he spent the early '70s actively submitting poems to print journals and enjoyed some success. He then took a 35-year hiatus from poetry to work as an editor of prose at such lofty establishments as the Chicago Sun-Times, Loyola University Press, and Washington University in St. Louis. Upon retirement, Donal took to his recliner, and was perfectly happy reading and listening to Gregorian chant all day. After three years, however, his wife bought Donal a computer and showed him where the boxes of still-unpublished poems had been stored in the basement for many years. Thus Donal began actively submitting again in June 2008. Some of his work since then can be found here; more can be seen at http://booksonblog12.blogspot.com/.
LindaCrosfield:
Ah! A new Donal poem. Thank you!
Posted 05/04/2017 04:48 PM
barbsteff:
What a delightful concept and observation by little Nora. I like poetry with surprise endings.
Posted 05/04/2017 04:08 PM
Janet Leahy:
This is a gem, the poem and Nora's response.
Posted 05/04/2017 10:17 AM
Glen Sorestad:
Delightful, Donal!
Posted 05/04/2017 09:22 AM
Sarah Russell:
Smiling here. Wonderful, Donal!
Posted 05/04/2017 08:08 AM
blueskies:
A hummingbird shall never be the same! A great little ode to joy(s)! Thanks, Donal.
Posted 05/04/2017 08:05 AM
Jean :D:
"Out of the mouths of babes." Thank goodness for Gpa's who share.
Posted 05/04/2017 07:47 AM
rhonasheridan:
She's right of course! I loved it! A sweet little poem.
Posted 05/04/2017 05:25 AM