You were born into my life, not from my womb but my heart,
your nine-year-old anger at first contracting,
then pushing against the unknown.
You ripped the fabric of my certainty, bloodied my serenity.

I labored longó
wanting you, resenting you
for the loss of my life
as it had been.

It was not a doctorís hand that slapped you into breathing.
It was my hand that insisted on a truce,
demanded you inhale the love surrounding you,
hugged you tentatively and absorbed your anger.

It was then,
in the struggle,
that you began to breathe
††††††††††††††††††††††††
and called me†Mom.


© by Bonnie Schupp.
Used with the authorís permission.
†
†
†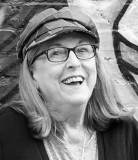 Bonnie Schupp is an educator, poet, photographer, wife, mother, and author of six books. She has given birth twice—once, physically, to her birth daughter, and once, metaphorically, to her step-daughter. Bonnie, who lives in Baltimore, Maryland, says of all the roles she plays, that of mother has been the most transformative. Learn more about her at http://bonnieschupp.com.
Jancan:
Beautiful and moving! Janice
Posted 05/12/2017 08:21 AM
DavidTookey:
Wonderful image. Love wins!
Posted 05/11/2017 06:15 PM
blueskies:
All step-mothers are so honored & celebrated in this well crafted poem. Thanks,Bonnie.
Posted 05/11/2017 03:46 PM
njc:
Beautiful...every word and phrase so carefully chosen and knit together.
Posted 05/11/2017 01:19 PM
Kathleen Carlson:
Beautiful and thought-provoking, especially for me who has had no daughter.
Posted 05/11/2017 01:03 PM
Sarah Russell:
Such honesty and insight. Love this poem!
Posted 05/11/2017 11:39 AM
Lori Levy:
Very tender and loving. Love the line,"It was my hand that insisted on a truce."
Posted 05/11/2017 11:14 AM
carel:
So beautiful and real--motherhood.
Posted 05/11/2017 10:49 AM
pwax:
Thank you for a love poem without sentimentality--just truth.
Posted 05/11/2017 08:37 AM