I have 58 well-used cookbooks
crowding my kitchen shelf,
I can make a decent souffle.
So why does my stove lie cold,
the refrigerator echo empty?
Why does my chef knife gather rust,
my pantry shelves look bare?
Why is the joy of cooking gone?

Let's do the math, here are the numbers;
365 dinners a year, for 46 years.
If I stacked one dish on top of another
those 39,000 plates would rise to 1,063 feet.
That's 417 feet higher than the Eiffel Tower.
Sacrebleu! No wonder it's time for takeout.
© by Tere Sievers.
Used with the author's permission.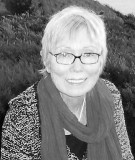 Tere Sievers, originally a Jersey Girl, now lives in Long Beach, California with her husband, Ron, and four chickens: Fifi, Betty, Mildred, and Hawk. She's the author of a children's book, Blueberry Pancakes and Monkey Pajamas, written to celebrate her grandchildren, and a poetry chapbook, Striking Distance, published by Arroyo Seco Press. Tere teaches at the Osher Lifelong Learning Institute at California State University, Long Beach.
Lori Levy:
Totally agree!
Posted 05/12/2017 02:32 PM
barbsteff:
There comes a time! Well said.
Posted 05/12/2017 01:58 PM
SAR2126:
LOVE THIS, from another Jersey Girl.
Posted 05/12/2017 09:22 AM
blueskies:
Tickled me. What a great world-view of your/our 46 years! Thanks Tere.
Posted 05/12/2017 09:15 AM
cork:
How many persons were there at each meal?
Posted 05/12/2017 08:45 AM
Jancan:
Entertaining and informative--I enjoyed! Janice
Posted 05/12/2017 08:27 AM
Larry Schug:
Yikes! I'm the dish washer in our house. And the number doesn't even include eating and cooking utensils, pots, pans, glasses, cups and countless etc. I got a nice chuckle from this poem. Thanks Tere.
Posted 05/12/2017 08:25 AM
KevinArnold:
Fun! Sacrebleu! indeed.
Posted 05/12/2017 07:37 AM