Remembering Ida
†
Breathe in her scent.
Thumb through food-stained cookbooks,
touch her buttery fingerprints.
†
Remove little notes
on more garlic or less wine,
place them in your jewelry box,†

safeguard her secrets
itís time to unravel
Momís clues.†

Bow your head to
unique holiday offers
of sensory overload.†

Recall family dinners crowded
around an orange banquette
curving around a Formica table,†

kitchen walls
strewn with flowered wallpaper
insisting on cheer.†

Allow a moment to grieve
the loss of unconditional love.†

Pour a nice cup of tea,
open the Times online,
place the cursor
on the world you live in now.
†
© by Anita S. Pulier.
Used with the authorís permission.
†
†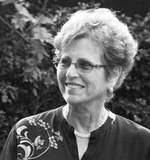 Anita S. Pulier, after retiring from her law practice in Brooklyn, happily traded-in legal writing for poetry. She's the author of three chapbooks from Finishing Line Press, which will also publish her forthcoming full-length book, The Butcher's Diamond. Anita's poems have appeared in numerous print and online journals and in the anthologies Grabbing the Apple, the poetry edition of Legal Studies Forum, and Aunt Poems by The Emma Press. Anita and her husband split their time between the Upper West Side of New York, and Los Angeles. Learn more about her at http://psymeet.com/anitaspulier/main/index.php.
barbsteff:
Touching remembrance of Mom, good cook, keeper of memories.
Posted 05/13/2017 08:41 PM
Lori Levy:
Especially like the second stanza on the little notes "on more garlic and less wine."
Posted 05/13/2017 06:36 PM
CamilleBalla:
What a nice poetic tribute! Another idea for the jewelry box. Loving the floral walls, the love, and the surprising shift done with the help of the cursor. Great poem!
Posted 05/13/2017 11:55 AM
cork:
Makes me want to look for clues in the old cookbooks.
Posted 05/13/2017 08:44 AM